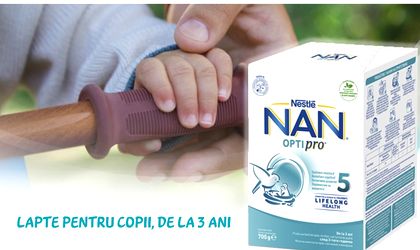 Complete nutrition, rich in minerals and vitamins, plays a primary role in the harmonious development of children, especially in the first years of life when milk is the main ingredient in their nutrition. During this period of growth, starting the age of 3, children need an additional intake of calcium, iron, and vitamin D, for good physical and mental development, but also to support the immune system.
For parents who want the best for their child, now and in the future, Nestlé has developed its range of products dedicated to little ones with a new milk-based product, NAN® OPTIPRO® 5.
NAN® OPTIPRO® 5 is a milk intended for children over 3 years of age, as a liquid part of the diet, developed based on Nestlé's research in the field of children's nutrition and health.
NAN® OPTIPRO® 5 contains a unique combination of ingredients, supporting a good physical and mental development of children at this stage, thus helping to provide a strong foundation for their future, i.e. an adequate amount of protein, but also an intake of Vitamin D, as well as calcium and iron.
Vitamin D contributes to the normal functioning of the children's immune system and, together with Calcium, is necessary for the normal growth and development of bones in children. Iron contributes to cognitive development, and iodine contributes to the normal growth of children.
Starting at the age of 3, children become more active, attend kindergarten, play, learn and continue to have specific nutritional needs. Even though they have an accelerated growth rate, this does not mean that they can have the same diet as an adult, because children still need nutrition appropriate for their age.
If this aspect is neglected, there may be a risk of long-term deficiencies and consequences. Optimal nutrition will support growth and provide children with a solid foundation for a strong start in life. Since milk plays an important role in children's nutrition, it is very important that parents offer them, even after the age of 3, a milk adapted to their age and nutritional needs.
"Our children can now benefit from milk as part of a complete and balanced diet for a harmonious physical and mental development, along with a healthy diet. Romanian parents can rely on NAN® OPTIPRO® 5 to ensure their little ones more vitality and immunity in the face of diseases, without neglecting all the other components of a healthy diet and life. From 1 to 5 years, children go through a period of accelerated growth, when their development takes a decisive trajectory, laying the foundations for their future state of health, when the best possible nutritional support is needed", says Mihaela Bușu, Business Executive Officer Nestlé Infant Nutrition.
Nestlé continues to dedicate itself to science for a better future, while also contributing actions to sustain and regenerate the planet for future generations.
Thus, NAN® OPTIPRO® 5 is produced with high-quality milk from farms committed to reducing carbon emissions, uses electricity from renewable sources in the factory where it is produced, contains a lid and spoon that are made of plant-based renewable resources.
Nestlé NAN® OPTIPRO® is an international brand, the most recommended brand by specialist doctors in the world*. Nestlé NAN® OPTIPRO® is part of the Nestlé Infant Nutrition portfolio alongside the product ranges NAN SUPREME, NAN COMFORTIS, NANCARE®, GERBER® Organic for Baby, NESTLÉ (cereals for infants and toddlers).
Nestlé has agreed to follow the principles and regulations of the International Code of Marketing of Breast-milk Substitutes developed by the World Health Organization since its adoption in 1981.
* According to market research conducted by AC NIELSEN, regarding the global presence of infant milk brands. Market research was carried out by several external agencies, such as IPSOS, IQVIA, among medical personnel who were visited by Nestlé representatives over a period of 3 months, but also by the competition, for a group of 16 countries defined by Nestlé (accounting for 74.7% of global milk formula sales, based on Nestlé data), 2017-2021.