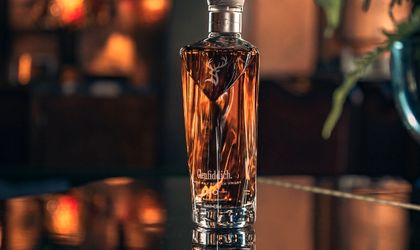 The latest Glenfiddich release from the luxury series Time Re:imagined – Glenfiddich 40 Y.O Cumulative Time is available in Romania, in a super limited edition of 6 bottles, available exclusively on www.iconicdrinks.shop. Glenfiddich 40 Y.O Cumulative Time is a rare, collectible expression with a taste that redefines luxury through a layering of aromas accumulated over 4 decades. Bold and unexpected, Glenfiddich 40 Y.O Cumulative Time transcends the very notion of a single malt, being an exemplary expression that represents accumulated time, age and experience.
Glenfiddich's Time Re:Imagined series is a collection of 3 outstanding single malt whiskies, each a unique representation of time, constant change and the house's unique distilling style. Since the 1960s, only three Malt Masters have been responsible for overseeing these rare and precious casks. A few decades later, these single malts have reached the peak of maturity and now some of them are ready to be tasted.
Glenfiddich 40 Y.O Cumulative Time encapsulates the complexity of time. Aged over four decades it has developed a rich and deep flavour that is rarely found in the single malt world. To create such a layered whiskey requires a process known as remnant vatting, which involves placing the remains of the previous batch into selected casks for each subsequent release, creating an accumulation of flavours over time that adds complexity to the taste. Cask after cask and season after season, the whiskeys rest, imbuing the spirit with memories of previous releases and years gone by, offering 40 layers of accumulated refined flavour. Glenfiddich is the only distillery that uses such a process and thanks to its courage and nonconformity it achieves perfection in terms of single malt production.
Time has added new layers to the taste of Glenfiddich 40 Y.O Cumulative Time, making it richer, fuller and silkier, embedding memories of previous releases in every nuanced note. The palate evolves from deep dried fruit notes to rich fruit cake, dates, raisins and stewed apples before giving way to dry oak notes with subtle hints of bitter chocolate and peat.
The nose is deeply layered and combines dried fruit, dark chocolate, roasted coffee and ripe black cherries. It is complemented with subtle waves of wood smoke, polished leather and cloves.
Just as the liquid is the result of the accumulation of time, so is the packaging that houses it. Each crystal decanter is housed in a custom-made jesmonite case as a bold interpretation of geological metamorphosis.
"We're delighted to bring such a revered and rare single malt to Romania. Glenfiddich 40 years old, matured using the remnant vatting system, is a perfect demonstration of combining centuries-old traditional craftsmanship with pioneering whisky-making techniques." declared Rob Curteis, Global Chief Marketing Officer at Alexandrion Group.
William Grant & Sons, Ltd. is an independent UK-based distiller founded by William Grant in 1887. Today, the luxury spirits company is run by the fifth generation of his family and distils some of the world's leading brands of  Scotch whiskeys including Glenfiddich, The Balvenie, Grant's as well as other iconic brands Hendrick's Gin, Sailor Jerry, Milagro® Tequila and most recently Tullamore DEW Irish Whisky.