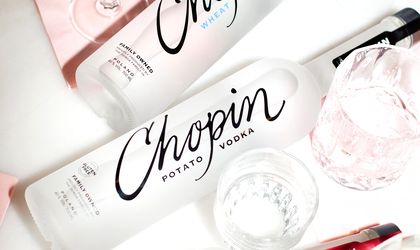 Alexandrion Group, the largest producer and distributor of spirits and wines in Romania, is delighted to announce the expansion of its imports portfolio with the brand "Chopin", an ultra-premium vodka, created in a craft spirits distillery in Poland. Alexandrion Group becomes, thus, the exclusive distributor of Chopin vodka in Romania.
Chopin is produced only from natural ingredients, without artificial flavouring, through a production process that takes a minimum of 6 months until bottling. Chopin vodka is available on the Romanian market in 3 versions: Chopin Core Range (Potato, Rye and Wheat), Chopin Blended (Gold and Indigo) and the luxury edition Chopin Family Reserve. Chopin vodka can also be consumed by those who are gluten intolerant, as this is a gluten free product.
 "Between January-July 2022 the vodka market in Romania increased by 0.7% in volume and 5.9% in value versus last year, according to Nielsen. We see this premiumisation trend continuing as Romanian consumers explore the vodka and cocktail categories, increasing their repertoires and drinking occasions accordingly.  We are excited to bring "Chopin vodka" into our portfolio and we thank our partners for their trust" said Rob Curteis, Global Chief Marketing Officer, Alexandrion Group.
—
"Chopin was born from a high level of curiosity and a slight disappointment. Although Poland is this category's (vodka) country of origin and there are so many types of vodka available, I couldn't find one that I was truly excited about – so I decided to produce my own vodka. Respecting tradition, with passion, determination and hard work, I created Chopin – which ignited a spark in me. The spark turned into a fire and Chopin changed the vodka category. Chopin has, in fact, redefined this category not only through taste, but also through design, being the first vodka launched as an ultra-premium product in 1992 and the first brand that sold products bottled in frosted bottles with transparent windows", said Tadeusz Dorda, Founder and CEO Chopin.
The Chopin Core Range includes 3 varieties: Potato, Rye and Wheat. Chopin Potato, which has of course potatoes as the main ingredient, is the most globally awarded vodka from this category, partly due to the fact that the raw material was not treated with pesticides or chemicals.
The Chopin Blended collection includes two varieties. Chopin Blended Vodka "Gold" which is made from a mix of potato and wheat, offers a creamy, delicate texture with sweet aromas. Chopin Blended Vodka "Indigo" has three basic ingredients: potato, rye and wheat, a mix that ensures a creamy texture and a sweet taste with hints of spice.
The signature version – Chopin Family Reserve – is made of new potatoes, water and yeast and the production process up until bottling takes two years. This vodka, presented in a spectacular bottle, also goes well in combinations with Martini cocktails and signature cocktails.
Chopin vodka has 40% ABV and is available in the following versions: 0.7 litre bottle, 1 litre bottle and 1.5 litre bottle or gift box with 0.7 litre bottle.
The Chopin Vodka range is available in Romania through specialized stores, hypermarket chains,  e-commerce shops, in partner HoReCa venues, but also through Alexandrion Group's e-shop https://www.iconicdrinks.shop/ .