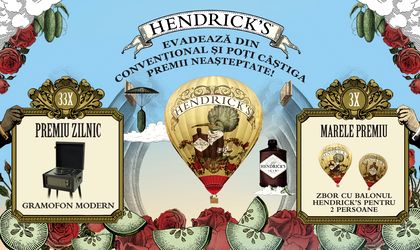 Alexandrion Group announces a campaign with unique prizes, dedicated to those who love Hendrick's Gin, an intense, exciting drink that challenges those who enjoy it to express their eccentric spirit. Called "Escape the Conventional and you can win unexpected prizes!", the campaign revolves around the idea of ​​the unusual, extravagant, surprising, inspiring people to have unique experiences that they would never have imagined to live and to remember them for a long time. The campaign takes place between July 31st and September 1st, 2021 in Romania and is addressed to all those who are 18 at least.
Surprising prizes and memorable experiences
Whether they taste Hendrick's Gin for the first time or consume it frequently, participants can win daily prizes, consisting of a modern gramophone: an eccentric device that combines the influences of a fascinating period, the nineteenth century, when music was listened to at the gramophone and the modern technology. Thus, the winners will be able to enjoy a glass of Hendrick's Gin with friends, in a non-conformist setting, created with the help of an original sound background.
At the end of the campaign, three big prizes will be awarded, which will give the winners the opportunity to make a unique journey. They will be able to admire the panorama of Herăstrau Park from above, will experience unique sensations and spend special moments with a dear one, in a balloon trip.
How can you sign up for the campaign?
Between July 31st  and September 1st, 2021, follow these steps:
Enter the campaign's website www.hendricksunusual.ro or scan the QR code from the communication materials (neckhanger, wobbler, totem);
Create your own "unusual" cocktail using the ingredients listed on the campaign's website;
Find out at the end of the campaign if you are one of the winners.
To maximize your chances of winning, share on Instagram or Facebook the cocktail prepared by you, with Hendrick's Gin, using #hendricksunusual.
Find out more details about the mechanism and prizes by accessing the campaign website www.hendricksunusual.ro  or www.alexandriongroup.com  and by watching the dedicated video: https://www.youtube.com/watch?v=PZAxfUzgElU
The story and attributes of Hendrick's Gin
Hendrick's Gin story started in 1999, in Scotland, where the producer's distillery is located. The unique, unexpected flavours of the Hendrick's gin, with rose and cucumber notes are enhanced by the production process, in which precision and patience have an essential role. Distillated in two distillators that are extremely rare, created in în 1860 and 1948, Hendrick's is an atypical gin, created through the minute mix of 11 plants, from the 4 corners of the world. The harmonius combination between the two distilators creates an extremely refined drink, with lasting flavours. Its value is also amplified by the production in limited quantities- only 500 liters at one time – which allows better quality control.