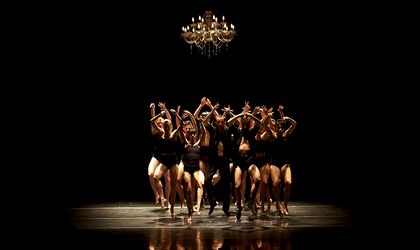 It happened again here at Sibiu International Theatre Festival. One of the top contemporary dance companies of the world, Kibbutz Dance Company, once again dazzled the Sibiu audience with Mother's Milk, a dedication for Rami Be'er's parents.
"Be'er presents one of the most wonderful requiem works created in dance in recent years. It is a work that on one hand is abstract, timeless and universal, but at the same time, it manages to spin fine threads into the private and intimate love story of his parents and the deep sense of loss left by their deaths," says Yonat Rothman as the official synopsis of what is staged. But is more than that.
"Mother's Milk. A love song for parents." is Rami Be'er form for examination, through dance, the love of his parents, who survived the Holocaust, for the European cultural heritage that they passed on to him. There, in "the caverns of dance" he succeeds for a moment to awaken fragments of memories from the life and the culture he received from his father and mother. On a stage that is dimly lit, partially by a chandelier hanging in the center, he creates the sense of a dark space, from which heartbeats can be heard.
It's love. It's geometry. And it's perfection, everything wrapped magically with music and incredible lights-shadows perspectives.
Read also: FITS 2017: Kibbutz Dance Company dazzles Sibiu
Kibbutz Contemporary Dance Company means also a lifestyle – their origins are from the North part of Israeli, where an entire village was created for these artists since 1973. There, artists from all over the world are trained – some are selected for the KCDC, some are just passersby – but their training programme is known to be one of the most intense ones.
They are also touring in Europe, so maybe you can see somewhere else this outstanding show. Their complete program can be seen here.
Photos courtesy of FITS / Adi Bulboaca