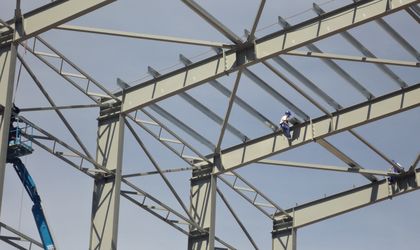 SPECIAL PROJECT/ EXCELLENCE IN BUSINESS: Remco 20 years in Romania
A wide range of products and services, a high quality of customer service activity and a highly skilled team of professionals are the keys to Remco's success in Romania.
By  Anda Sebesi
Present on the local market since 1993, Remco Romania certainly has a recipe for its success. The quality of services combined with the right products and skilled professionals who offer a high quality of customer service are some of Remco's assets in Romania.
"We provide excellent services in the development stage and design the right product to meet the customer's needs. Last but not least, we have the best specialists on the team in order to fulfill the promises made in that process when gearing up for the actual execution of the project. That, in combination with the comfort and convenience provided with the package of securities we offer, is what customers appreciate and what keeps us prominent on many shortlists in various boardrooms," says Jan van Vulpen, general manager at Remco Romania.
The company is specialized in industrial buildings, which are its core business. Its specialists design, engineer and build them, up to turnkey configuration and including obtaining the building permit. "Together with our colleagues in the offices in the Netherlands and Poland, we have a large library with pre-engineered solutions. Any challenge presented by a customer we are likely to have already dealt with elsewhere, and as such can offer proven designs, so our customers will never see experiments when we assemble their dream," says Van Vulpen.
But things don't stop here. Van Vulpen explains how one of the company's customers in Gabon asked it to be the general contractor of the firm's new headquarters, a complex of two six-level buildings with an appealing connecting bridge at the third level. After carefully analyzing both its capabilities and know-how and the risks involved, Remco decided to take on this challenge. "I'm happy to say we are now close to this story's happy ending. And in this way we can add further versatility to our menu," says the general manager.
Any company that intends to maintain or gain position on the market needs to differentiate itself from the crowd. The Remco representative says that honesty, integrity, motivation and dedication are some of the attributes that make the company different from the competition.
"Each and every project is taken on with the same level of enthusiasm and our Dutch roots and continuously strong ties with the Netherlands enable us to offer a very strong package of protection to our customers. We have professional indemnity insurance, very robust construction all-risk coverage, adequate general liability insurance, and apart from that we can offer prepayment bonds, performance bonds and maintenance bonds," explains Van Vulpen. He adds that the company's products and services have been very well received on the Romanian market due to the company's track record. "We have been tried, tested and trusted by dozens of customers. Others have tried to copy our formula and approach but none of them really gained momentum and succeeded on a scale like we do," he says.
The current economic context is not favorable for many businesses in Romania or worldwide. But trusting your strategy and keeping to the plan may be the right way to manage to stand out in a time of recession such as today. "We strongly believe in our strategy and are sticking to our course. The position of the sails may need adjustment if the wind changes but the destination remains the same. We have extensive and exhaustive intake interviews with our customers to define their requirements with military precision. We want to know everything from their production processes to logistical movements in order to have a very detailed overview. After that our dedicated specialist teams establish the most economical solution based on a broad range of pre-engineered solutions," says Van Vulpen of Remco.
Asked about the challenges the company has faced and continues to face on the Romanian market, Van Vulpen prefers to talk in terms of opportunities rather than challenges. "Romania is simply a sleeping giant. It should and will wake up some day and return to greater economic activity in all sectors of the economy and continue to catch up with prosperity levels seen elsewhere in Europe. For our business this means a lot of work. And we are ready for it!" he adds. As for its plans, the company is working on launching "REMC**L", cold-storage and freezing warehouses for the food and agricultural industries on the local market. "When the output of Romanian agricultural industry improves, the need for such facilities will grow and we happily offer our expertise in that field," concludes Van Vulpen.
anda.sebesi@business-review.ro