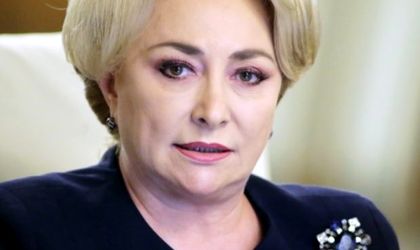 Romanian Prime Minister Viorica Dancila will attend the rally held in support of the government to be organised on Saturday in the capital Bucharest.
"Of course I will be present at the meeting because I am a member of the Social Democratic Party (PSD), I am the executive president," Dancila said at the Palace of Parliament.
Dancila added that the rally will not be in support of the government, but against abuse.
Asked whether she will be replaced by European Commissioner Corina Cretu, Dancila said that "everyone can build scenarios." "There is one thing I know – that we have a majority in the Parliament and the coalition is supporting me," Dancila said.
The head of the Social Democrats, Liviu Dragnea, who is also Chamber of Deputies speaker, announced on Monday that the party will hold on June 9, starting 8 pm, a rally "against long-term abuse" and of the of the rule of law.
The decision was made by the National Executive Committee of the PSD.
"We are waiting for all those who want to live in a free country (…), in a country where because of a huge toxic propaganda we are in the situation where an illegitimate structure, obscure, hidden, is a parasite of the state institutions (…) to allow for other tens, thousands of destinies to be destroyed," Dragnea said.