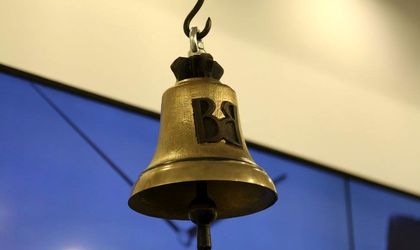 The Bucharest Stock Exchange (BVB) had a positive debut on Monday. The BET index, which showed the evolution of the most liquid 13 companies, was up by 0.49 percent, to 8,080.14 points, 40 minutes after the start of transactions.
The BET-Plus index, showing the evolution of the 37 most liquid stocks on the BSE, was up 0.4 percent, the SIF BET-FI index appreciated by 0.34 percent and the BET-NG index of the 10 energy and utilities companies went up by 0.74 percent.
The BET-XT expanded BET-XT index of the 25 most liquid stocks rose by 0.45 percent, while the BET-BK return on investment return rose 0.28 percent. The total value of the exchanges realized on Monday on the Bucharest Stock Exchange at 10:40 am was RON 4.08 million (880.601 euros).
Boromir Prod shares were most appreciated on the main market, up by 13.48 percent, followed by Alumil Rom Industry, up by 6.16 percent and OMV Petrom, up by 1.55 percent. On the other hand, the highest decreases were recorded at Ropharma, down 5.04 percent, House of Bucovina – Mountain Club – down by 5 percent and Vrancart, down 1.52 percent.