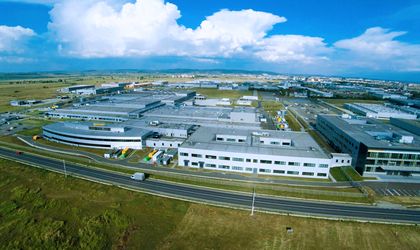 Continental, technology company, announces new investments in extending the Sibiu location. The company prepares for building up a new production module – Module 7 – including the extension of auxiliary spaces such us: logistics zone, office area, IT infrastructure as well as the canteen and the kindergarten.
Module 7, being at the moment in the design phase, will cover an area of approx. 15,000 m² and have a capacity of over 700 people. Out of this surface, 6,500 m² are allocated to the production zone and the rest of the space is dedicated to logistics, office area, and other amenities required, all fully equipped. The extension comes also with a new space for the location's canteen. The construction works are planned to start mid of next year.
Within the new module, engineers, technicians, and operators, will work together on the production of autonomous driving systems, connectivity systems and other mobility solutions for key automotive customers around the world, all in a modern factory, with latest technologies and smart processes of Industry 4.0.
Furthermore, Continental Sibiu has started the construction works for extending the kindergarten of the location, dedicated to employees' children, which is operating both as a nursery and kindergarten and part of the costs for these services are covered by the company. Following the extension, the kindergarten will have a surface of over 1000 m² – that includes 8 classrooms, an exterior playground, spaces for different activities, medical room, and other amenities. The extension will result in an increased capacity of the kindergarten, up to 160 places.
The company's activity is in a continuous development and the expansion of the location will facilitate, in the next years, an increase of the production activity and of the number of employees, following the trend of the last years.
Continental develops pioneering technologies and services for sustainable and connected mobility of people and their goods. Founded in 1871, the technology company offers safe, efficient, intelligent and affordable solutions for vehicles, machines, traffic and transportation. In 2021, Continental generated sales of €33.8 billion and currently employs more than 190,000 people in 58 countries and markets. On October 8, 2021, the company celebrated its 150th anniversary.
In the time frame 1999 – 2021, Continental invested over € 2 billion in its Romanian operations. All three group sectors of the corporation are represented in Romania. The company has six production units and four research and development centers in the cities of Timisoara, Sibiu, Carei, Nadab and Iasi. Continental has a tire distribution center in Bucharest. Continental employed more than 17.500 colleagues by the end of 2021, out of which more than a third are engineers.