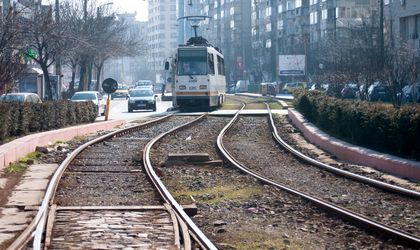 Eleven financing contracts worth a total of over EUR 233 million were signed on Thursday by Regional Development and Public Administration minister Vasile-Daniel Suciu and Bucharest mayor Gabriela Firea towards the upgrade of Bucharest's transport infrastructure, including the acquisition of 100 electric buses and 80 trams. 
The funds will come from the EU through the 2014-2020 Regional Operational Programme, Priority Axis 3 – Supporting the transition to a low carbon emissions economy, which is coordinated by the Regional Development and Public Administration Ministry.
"The transport infrastructure in Bucharest will be upgraded and public transport conditions will improve as a result of repairs on tram lines and the acquisition of 100 electric buses and 80 trams," said the Ministry in a statement.
The routes to which new vehicles will be added are buses 137, 138, 173, 300, 330, 335, 311, 312, 313, 336, 368, 381, 385 and trams 1, 10, 21, 25, 32, 41.
"I am happy that we were able to sign these contracts today because public transport is a real issue that must be approached in a very serious manner, especially in the Capital, where there are so many cars and the pollution level is high. After the implementation of these projects, Bucharest will have a modern public transport system that will be in line with European standards. Furthermore, we'll have environmentally friendly means of transport that will contribute to reducing pollution so that we can breathe cleaner air," said vice prime minister and Development minister Vasile-Daniel Suciu.
Photo: Teodororoianu | Dreamstime.com