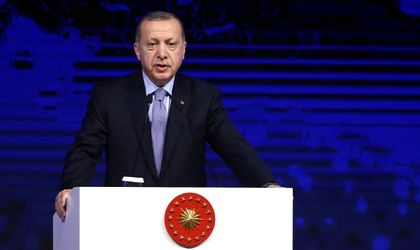 The Turkish Lira has sunk more than 11 percent to a new record low ahead of a much-anticipated public address by President Recep Tayyip Erdogan, Bloomberg reports.
Government bonds slumped, sending benchmark yields to an all-time high amid falling investor confidence in the authorities' ability to resolve the market rout.
Erdogan's speech later today will have investors looking for any sign that he is willing to ease tensions with the United States, caused by the detention of an American pastor in Turkey. The US has threatened further sanctions if the pastor is not released. Earlier today, Erdogan told followers: "Don't forget this: if they have got dollars, we have got our people, our right, our Allah".
Market players are also waiting to see whether Erdogan will let go of his long-term avoidance of higher borrowing costs, which many investors say is standing in the way of policies that could strengthen the country's assets.
"The lira will keep falling if they don't hike rates today," said Morten Lund, a strategist in Copenhagen, for Bloomberg.
Turkey currently depends on foreign capital to finance its large external deficit, and the lira crisis threatens companies' ability to repay foreign currency loans.
Erdogan's son-in-law, who is also the Finance minister, is also expected to hold a press conference this afternoon, but the revisions the leaders may announce today are probably not going to be enough to lead to a complete market recovery, analysts say.
"If the currency remains at current levels, headline inflation is likely to approach 18 percent year-over-year by September," strategist Erkin Isik told Bloomberg.