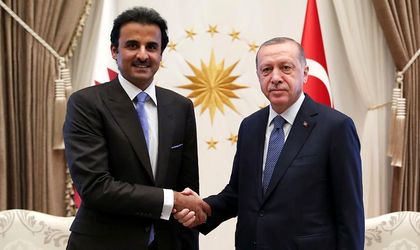 Qatar has pledged to invest USD 15 billion in Turkey as a lifeline for the country, which faces a severe economic crisis amid a trade dispute with the US, Sky News reports.
In 2017, Turkey stood by Qatar when it was isolated by Saudi Arabia, United Arab Emirates and Egypt, so this investment is seen as payback for the support. Turkey had set up a military base in Qatar in 2015, and sent more troops as the crisis unfolded.
President Recep Tayyip Erdogan's spokesman Ibrahim Kalin tweeted: "Turkish-Qatari relations are based on solid foundations of true friendship and solidarity."
Analysts say that this investment from Qatar could build up investor confidence and possibly save Turkey from economic collapse.
After the announcement, the Turkish lira bounced back about 5 percent, after having plunged more than 20 percent last week, prompting fears that Turkey may need a bailout from the International Monetary Fund.
"This is part of the Turkish government's strategy to avoid the IMF by finding alternative external support," Mohamed El-Erian, chief economic adviser at Allianz, wrote on Twitter.
Ankara also announced new tariffs on US imports, adding duties of 50 percent to 140 percent on alcohol, cars and rice.