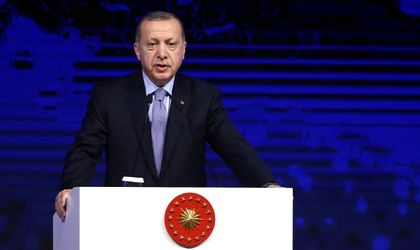 The Turks voted Sunday in a double presidential and legislative election. According to state-run Anadolu news agency, Erdogan's AKP party and its ultra-nationalist MHP ally maintain the parliamentary majority with about 53.6 percent of the votes cast. Incumbent Recep Tayyip Erdogan has won more than 50 percent of the vote, meaning that a runoff election will no longer be held.
If the results are confirmed, Erdogan won a five-year presidential term in which he will have increased powers, election authorities announced on Monday.
"According to the results, Recep Tayyip Erdogan appears to have won the absolute majority of valid votes", which allows him to be re-elected from the first round," said YSK chairman Sadi Güven, cited by an AFP correspondent.
Güven said 97.7 percent of the votes were recorded in YSK's computer system, stating that ballots that were not yet counted were not enough to deprive Erdogan of an absolute majority.
The YSK Chief has not presented the outcome of the presidential election, but Anadolu's Turkish media agency announced that Erdogan won about 52.5 percent of the votes, according to partial results after counting almost all of the ballots.
More than 50 million people cast their votes in the election, with a total turnout of 86.7 percent. Erdogan's main opponent, Muharrem Ince, got 30.7 percent of the vote. Ince conceded defeat in a text message to a TV channel, but said the election wasn't a "fair race" as he and his party got almost no airtime on state broadcasters and the country was officially under emergency rule during the campaign, giving the government extensive powers to suppress dissent.
These elections are particularly important for Turkey as it marks the transition from the current parliamentary system to a presidential system that will allow Erdogan to significantly extend his prerogatives and take over the PM's powers, a position which will be disbanded.
Erdogan says that his new powers will allow him to tackle the nation's economic problems and crush Kurdish rebels in southeast Turkey and in neighbouring Iraq and Syria. The electoral board has also confirmed that the pro-Kurdish People's Democratic Party (HDP) has also passed the 10 percent threshold needed to enter parliament.