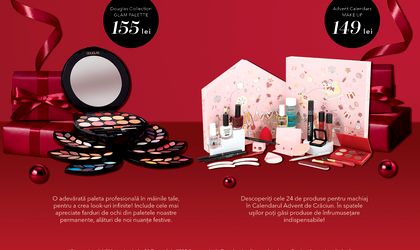 DOUGLAS Romania, part of Europe's leading premium beauty retailer DOUGLAS – announces its partnership with Hope and Homes for Children, a non-profit organization that is fundamentally changing the child protection system in Romania.
This year, the company is getting involved in the Child Separation Prevention Program. Through this program, the company aims to help both children and their parents by providing emergency interventions aimed at improving living conditions so that children can stay safely at home.
"Together with our friends at Hope and Homes for Children, we also believe that a child's place is at Home and not in an orphanage. We are delighted to enter into this partnership and hope that in doing so we will be able to help as many families as possible stay together for this Christmas and for many more to come. So far, 445 children from 150 families are part of the Child Separation Prevention Program and we want to be with Hopes and Homes for Children as the program grows and develops!", declares Lavinia Ivas, Country Manager DOUGLAS Romania.
The company also announces the launch of a campaign that runs both in stores and online on douglas.ro. In addition, to raise awareness about this social program and the impact it has on the lives of the families that benefit from it, the campaign will also be running on TV. Thus, DOUGLAS Romania offers 10 lei in the Child Separation Prevention Program, for each of the Glam Palette or Advent Calendar Makeup products sold in December.
"Children are at their best when they are at home. Despite the poverty that surrounds them, they have the love of their parents. They are happy and safe in the arms of their family. Hope and Homes for Children is here to help these vulnerable children. With the support of our partners and individual donors who share our mission, we help families living in extreme poverty get back on their feet, so they don't fall apart and their children don't have to go through the trauma of living in an orphanage", says Robert Ion, General Director of Hope and Homes for Children Romania.
In Romania, one of the most common reasons for which children are separated from their parents and end up in an orphanage is poverty, and a child who ends up in such an institution, for this reason, does not return home sooner than 7-8 years. Often, parents who gave up their children due to poverty fail to meet the conditions for reintegrating the minor into the family. To date, the Hope and Home for Children association has prevented more than 40,000 children from entering orphanages, helped to close 65 orphanages and built 121 family homes for the little ones.