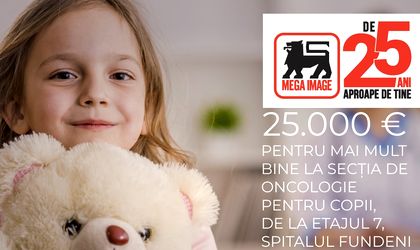 Mega Image celebrates its 25th anniversary in Romania by getting involved in the community with a donation of 25,000 euros to the Metropolis Foundation for the renovation of the pediatric oncology department, on the 7th floor, within the Fundeni Hospital. The renovation project started this summer at the initiative of the Metropolis Foundation, which recently announced on social media that they still need funds to complete the project, according to the full renovation plan.
Beyond any business, there are people and communities who support every plan, progress and development. On our anniversary, 25 years of Mega Image in Romania, we looked closely at the communities we've been part of for a quarter of a century and immediately responded to the need for funds for the renovation of the pediatric oncology department at Fundeni Hospital. We welcome the initiative of the Metropolis Foundation and remain in solidarity. We are happy to mark the beginning of our anniversary by doing good where it is needed. We further invite our customers to celebrate together through a special prize campaign that will soon begin in all our stores. We have been on our communities' side for 25 years and we will continue to move forward together", says Adrian Nicolaescu, Vice President of Marketing, E-Commerce, Communication and Sustainability at Mega Image.
In October, Mega Image will continue to celebrate with customers the 25 years on the Romanian retail market, a long journey, which marked transformations in the store space, new shopping experiences and innovations. The company has consistently remained in the top of modern retail and has been a promoter of transformations and the adoption of international trends.
Since the first store opened in Romania, 25 years ago, Mega Image has now exceeded the threshold of 800 stores, reaching a total of 818 units in Bucharest and cities across the country, in strong urban centers.
Through an anniversary campaign, which starts on October 15 and runs until November 11, Mega Image will celebrate its 25th anniversary with customers, with special prizes and in-store promotions. More details about the anniversary campaign will be available from October 15 on www.aniversare25.mega-image.ro.