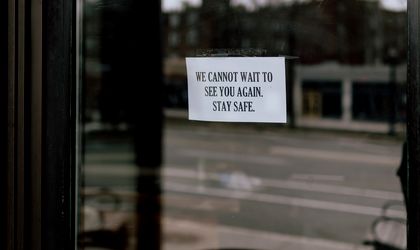 On March 16th Romanian government officials announced that HORECA businesses would be closed in order to stop the spread of the coronavirus. As a result, some the restaurants have moved their businesses online – either through takeaway platforms or by delivering food themselves. BR talked to several key figures from the HORECA industry to find out what's next for them.
Social distancing in the restaurant business: Dragos Panait (Next Root Management Systems)
How do you support the restaurants you are consulting during this crisis?
We realize that this crisis is affecting everyone, no matter how big or small. Together with our clients, we identify additional income sources and projects that fit the current HoReCa landscape. We also teach them how to manage their resources and keep their losses to the minimum. I, myself, have always been a strong believer in procedures, as optimization means that help keep costs under control. In these types of situations, they are no longer recommended, but mandatory, as a business's future depends on them. 
We also develop and implement dedicated strategies, ensuring we have the ideal personnel scheme for each client, but also covering the needs for optimal stocks and how to avoid waste. 
Another important part of our current activities is working with clients to rethink their business models and prepare them for when consumption will be restarted, taking into account that things won't get back to normal from the start and that careful planning is necessary. 
Which are the main concerns of the horeca owners during this period?
First of all, ensuring that their businesses survive the crisis and this depends very much on what they do now, whether they have identified additional income sources, how they handle their costs, staff relations and commercial terms with landlords and suppliers etc. 
Secondly, it is preparing for the economic restart that may be in May. Here, there are several scenarios that need to be made and the worst case one gets the most attention, as that needs to be bulletproof. There are many variables, but we can't have more surprises. The industry has to prepare for consumers that will be more reluctant about spending money and will definitely expect more value for every RON they offer you. We also have to anticipate working with a room half empty, because of social distancing and create business models that function with limited resources and smaller costs. Optimization will be a priority for owners and operators. 
Will Romanian restaurants reopen after the crisis? Which segment of restaurant business (street food, fast food, high class etc.) will suffer the most? Why?
I anticipate that about 30% of restaurants will not reopen after the crisis, but I am also positive that new ones will appear. In what turnover is concerned, operators are making 80-90% less than usual, because of this activity freeze. 
Street food will certainly be the most affected, in the long run, as I anticipate food festivals and fairs will be canceled or severely restricted. Euro 2020, which was a relevant event for food trucks, is no longer happening. There are many entrepreneurs who rely on their food trailer activities and some that don't have other income sources. 
In your opinion, how the restaurants' scene is going to change after this pandemic?
The crisis caught many restaurants off guard, with high stocks, perishable goods, so the loss itself wasn't only caused by the sudden activity blockage and lack of incomes, but also by waste and things that could have been foreseen. 
I think restaurant operators will become more business oriented and will focus more on optimization. Cost controlling, inventories, stocks, sanitary procedures will be given more attention, employees will each have their responsibilities and to-do lists, to ensure that there are no dead times in their activities and that each of them brings added value to day-to-day operations. 
This pandemic will act like a catalyst for business maturing, as operators will devote more time to long term strategies, crisis scenarios, financial reporting and forecasting.