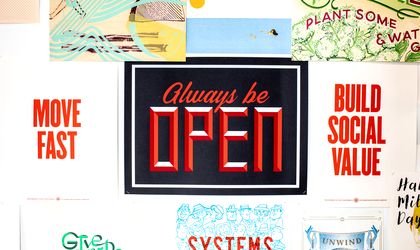 We're living in a time when world-changing ideas are moving as quickly as possible, with some of them coming from organisations which are able to disrupt the status quo and drive sustainable, large-scale change. Every idea starts with someone trying to solve a problem, and new social entrepreneurs and new ideas on how to impact the world using our consumer power are gaining more visibility. Romania is following this trend too, with organisations like Ashoka Romania and Social Innovation Solutions taking the lead and helping local ideas turn into social businesses.
By Oana Vasiliu
Social innovation vs social entrepreneurship
To better understand this relatively new entrepreneurial phenomenon taking place in Romania, we asked Ashoka's co-director Corina Murafa about the difference between the terms "social innovation" and "social entrepreneurship": "To make sure that social change is systemic and permanent, we must make sure that all people can be contributors, that they can all be change-makers – whether they describe themselves social entrepreneurs, social innovators or intrapreneurs. Social entrepreneurship is a concept that Ashoka coined at a global level several decades ago, when there was no word to characterise the countless people out there who were relentlessly working to solve social issues they were concerned about – from children's rights to environmental degradation – using typical entrepreneurial skills to attain social impact."
Ciprian Stanescu from Social Innovation Solutions argues that "social innovation is, by itself, a type of innovation. It focuses on an idea that can create change; ideally, we're talking about systemic and long-term change. I would argue that social innovators are sometimes like inventors and scientists, while social entrepreneurs are more about making the idea happen. (…) While social entrepreneurship is mostly related to the business and civic world, social innovation can also happen at a public level – from changing environmental regulations to introducing a new method of teaching in schools – possibly (and ideally) in collaboration with the business community."
High hopes for Romania
Programmes that can help you understand how you can become a social entrepreneur or change-maker are increasingly popular. When Ashoka opened their office in Romania in 2017, they mapped 962 change-makers and their supporters using a Network Map. "But since then, we've organised several long-term programmes to identify and support social entrepreneurs and I think we are now serving a community of over 3,000 social entrepreneurs in Romania through our programmes," Corina Murafa adds.
Talking about the events hosted by Social Innovation Solutions, Ciprian Stanescu said: "From our high school participants in the Social Impact Award to our Future Makers, there is a new generation across the country that has the desire and determination to find solutions to the challenges of both the present and the future. What is a changemaker, in the end? It's someone who makes a change happen – but how to quantify and measure this action and what 'change' really represents can be rather subjective. Raluca & Adrian Stratulat won the Social Impact Award with iziBAC, a solution tackling the problem of baccalaureate results in Romania. They have a functional business model, it is innovative, and it actually works in practice. Are they change-makers? I would say yes, others might say no. Change-making is also related to the ways in which we look at solutions – for some, what Teach for Romania does is amazing, while others might say it is no more than a drop in a very large ocean."
Moreover, a Romanian team was recently named the winner of the 2020 European Social Innovation Competition. The WhyWeCraft project is a legal support mechanism for craftspeople and designers, designed to be a worldwide movement supporting the recognition of cultural IP rights for craftspeople who are custodians and promoters of traditional garments, traditional designs, and traditional manufacturing techniques. The team was helped out by the Ashoka organisation to pitch their social innovation idea.
In terms of challenges, everyone agrees that changing behaviours and mentalities is still an important goal in Romania, while financing instruments, legal and regulatory obstacles, the lack of cross-sector collaboration, and most importantly the lack of openness from the public sector to embrace social innovation and make it systemic by anchoring it into policy are also among the biggest local problems.
Future looks bright
After such an intense year for people across the world, every discussion about the future feels like it's too much to handle. Yet everyone is talking about the entrepreneur of the future and how they will look like. Asked by BR, Ana Murray, co-director of Ashoka Romania, answered "I think they will be shifting mentalities; they will be more empathic, and well-being is going to be a core value in change-making. They will break from the authoritative, hierarchical approach to leadership and instead pave the way for everyone to participate as change-makers. They'll create new roles for people, purposes for institutions, and relationships between stakeholders."
Ciprian Stanescu adds that "A future entrepreneur or a future-maker is a person who understands the challenges of the future and builds solutions for tomorrow, today. At the same time, they combine the experiences of the past with the needs of the present and act for a better future. We live in an economic, social, and health context in which we, as entrepreneurs, need even more creativity and courage than we did before."
Globally recognised social innovators in Romania*
Paul Radu, a Romanian who founded the largest global network of investigative journalists. Their investigations led to EUR 7.2 billion in fines levied and money sized, 168 civic actions, 403 government actions, 53 resignations and sackings, and 495 official arrests, indictments, sentences.
Dorica Dan, the founder of Europe's only excellence centre for rare diseases ran by patients – a landmark institution located in Zalau, a small community in northwest Romania that has the ability to positively influence policy-making on rare diseases at the European level.
*both are Ashoka fellows
"We are all able – and I would argue that we all have the duty – to contribute. To move the needle, even by a little, to create better societies and communities. So from this point of view, we are all change-makers. Whether we volunteer, petition our representatives, set up an NGO, run for office or have the greater good in mind when we do our jobs in corporations – we are all change-makers," Corina Murafa, co-director of Ashoka Romania