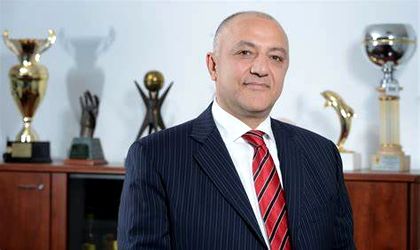 The Alexandrion Group is strongly involved in supporting those affected by the war in Ukraine through a series of humanitarian actions developed through the Alexandrion Foundation. In order to increase the impact of these actions and to provide assistance to as many people directly affected by the crisis in Ukraine as possible, the Alexandrion Foundation is in contact with the Romanian state authorities, national higher education institutions, religious organizations and international organizations, focusing on humanitarian issues. 
Mr. Nawaf Salameh, Founding President of the Alexandrion Group and President of the Alexandrion Foundation, noted that "we live extremely difficult and sad times for humanity, a situation that, unfortunately, is not unfamiliar to me personally. Although I have lived in Romania for almost 40 years, my lived experience in my native country, Syria—a beautiful country, but so deeply affected by the war—is undeniably imprinted in my mind and soul. I know what it means to be constantly afraid that you could lose your life or, worse, that you could lose your parents, grandparents, siblings, friends, at any time. It is a feeling that is difficult to describe, and impossible to feel if you have never had such an experience. I am shaken by the suffering of the Ukrainian refugees, the uncertainty and fear in which they live, because I know them very well. I feel these people as close to me as my relatives. That is why I want to do everything in my power to help as many of them as possible" he said. 
The Alexandrion Foundation has contacted universities in several areas of the country, including Suceava, seeking partners for programs in support of current university students, including in Master's and PhD programs, and for refugees. The students will also have the opportunity to apply for the Foundation's internship programs and subsequently for employment with the Group. Through these programs, the Alexandrion Foundation will help young people nurture their professional aspirations amid the current crisis, and help them to gain professional experience, and earn income, with the Group. 
The Alexandrion Foundation made available to the Romanian state authorities the entire space previously occupied by the SABER Distilleries 1789 in Rădăuţi (Suceava County) in order to be organized to support the Ukrainian refugees. The entire production activity of the SABER Distilleries 1789 was transferred several years ago to the Alexandrion Saber Distilleries 1789, located in Bucov (Prahova county), Dealu Mare region. 
The Ukrainian business partners of the Alexandrion Group, together with their families will benefit from accommodation at the Rhein & CIE Azuga 1892 Cellars, in Azuga(Prahova County). Two refugee families are already accommodated at the Cellars, and the representatives of the Group are in permanent contact with other partners in order to take them over immediately, if necessary. Also, logistical and operational support will be provided to all the partners of the Group, Ukrainian businesspeople, in case they would like to continue their activity, safely, in Romania. 
"It is very important for Ukrainian businesspeople to continue their activity, in order to be able to contribute to the recovery of the economy when this crisis will end and to be able to help those around them. We will give them all the support they need: we will help them open bank accounts, we will put them in contact with legal advisers and we will do everything necessary, on the business side, so that they do not have to interrupt their activity "added Mr. Nawaf Salameh. 
Alexandrion Group has also terminated its partnership with Russian-based vodka producer Beluga Group. 
"In the current context, we can no longer continue our partnership with Beluga Group. I am an entrepreneur who owns a global business and understands very well that it is vital that entrepreneurs from all over the world are responsible and bold in these moments and act quickly. I am ready to take on losses of almost 1 million euros, the equivalent of the stock purchased from Beluga Group, to stand 100% by those who do everything possible to end this crises as soon as possible ", concluded Mr. Nawaf Salameh.