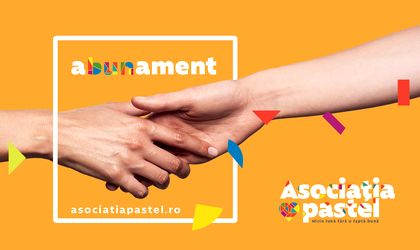 Non-profit pastel Association is ready for launch with the mission to change Romanians' way of getting involved in the doing good sector. The new organization plans to inspire and educate people and companies in doing good on a regular basis, thus becoming the bridge between the need for help and those who can provide it and doing it constantly and unceasingly.
The idea of this NGO started in 2018 with pastel agency's internal program which took the responsibility of doing a good deed monthly. Having a dedicated team of people who proved a lot can be changed in a community, pastel Association now takes good to a whole new level, by turning It into a constructive habit that society greatly needs.
pastel Association developed the aBUNament (a subscription for good), the first program that plans to motivate people in doing a good deed regularly. At first, the aBUNament will be a tool for the corporate environment and it offers the necessary means for the people to get involved in a cause monthly. The support may be either through the employees' volunteering or donations.
"I truly believe we could change so much around us if we did some good constantly. Of course, we never seem to have the time, the resources or even the confidence that anything will turn out for the best… I realized this is not the case as, in 2018, with people in pastel, we planned to never let a month go by without doing a good deed. That was our commitment and since then, we contributed to tens of different projects. The causes were diverse: we arranged a single mother's home, we helped the team of an organization who provides for the homeless, we planted trees, picked up litter, we provided packs to the elders or took children who have never stepped into a cinema to a movie. At pastel, we called this project "A good deed every month" because people need help all the time, not only at Christmas or Easter.
The pastel Association will take things to a bigger level and more people will be involved in this type of practice. Thus, "A good deed every month" turned into the association's slogan because, yes, involvement needs to become a habit. Moreover, doing good can be learnt as learning is a process in which you get to significant results only if you make a constant effort", said Dana Nae Popa, Managing Director of pastel and founding member of pastel Association.
Andreea Oprea, the mom who managed to build a playground for the children in her neighbourhood, will be the coordinator at pastel Association
pastel Association's projects will be coordinated by executive manager Andreea Oprea, known for her involvement in the community. Andreea Oprea managed to determine the authorities to build a playground area for children on an undeveloped parking lot in Colentina neighbourhood. The playground is presently called Park Emma, taking the name of her daughter. She has been supporting the beneficiaries of the Day Care center in Amara for 8 years and developed projects worth EUR 40.000 by gathering a community of people willing to be involved.
"If we pay attention, we can see that help and change are needed. I came to the conclusion that a lot of people are willing to help if I speak to them about various needs, if I knock on doors, if I show them how things are changing thanks to their involvement. I believe my personal example and pastel Association's example can inspire others as well. You can generate a change for the good without too much of an effort. The good deeds are the results of getting involved, and this level is measured by the number of people who do this as often as they can", said Andreea Oprea, executive manager of pastel Association.
Good deeds in Romanians' perception
62% of Romanians believe a good deed means they should help whenever help is requested, while other 62% think a good deed means a donation of clothes, food, appliances, and toys. These were the results of a survey by Unlock Market Research from the beginning of the year, established at the request of pastel Association. The survey set to define good deeds as seen by Romanians, their involvement and the attitude towards doing good and it used the Computer-Assisted Web Interview method with 1000 respondents from both the urban and rural areas.
People tend to get involved rather sporadically and the cause is the main reason that makes them offer their help.
Emotional causes, focusing on children, are especially sensitizing Romanians, as 69% of the respondents said they would get involved in this type of cases. Second come environmental issues, with 53% of the answers, and 51% of Romanians would rather help the elderly.
The study shows that, although we are not culturally inclined to talk about our good deeds, as they are perceived as boasts, 80% of the people would be open to share their involvement if this inspired or motivated others to do good in their turn.
Romanians do not clearly define volunteering and they see it as any type of help that takes place in an unorganized environment and having no frequency whatsoever. In this context, over 50% of the respondents said they would be open to volunteer while 50% said they did some volunteer work in the past 2 years.
80% of the respondents said they would prefer to join an association with their family, friends of colleagues, as it would motivate them to do good with loved ones.
Moreover, 72% of the respondents would want to do good on a monthly basis, through an organization.
"The survey showed once more that good is inside us, that it is in the human nature to do good, but people need guidance, they need to transform and channel this instinct into structured and organized actions. Romanians are part of a collective and also reactive culture, and this transpires in our way of doing good. It's easy to help if you are helped to do so – this is the reason why Romanians need support in adopting this habit regularly. Good deeds are a source of positive vibes, hope and wish to do even more, and to get others to commit. But involvement needs to come naturally, simply, and as transparent as it may be. The idea of recurring good deeds comes as a way of educating future generations as well, not only ourselves", said Ada Sipetean – Client Service Manager, Unlock Research.