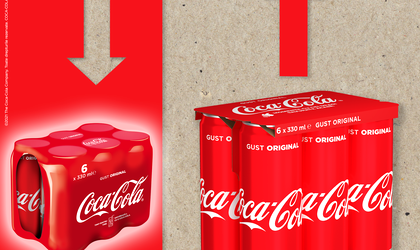 The Coca-Cola System in Romania takes a step further to reaching its vision for a circular economy. The company has invested EUR 2 million in its Timisoara plant and is introducing the Keel Clip™ technology in Romania, thus replacing the plastic wrap used for can multipacks with a collective packaging made of biodegradable and recyclable cardboard.
KeelClip™ is an innovative, minimalist, collective cardboard packaging, which will be used for Coca-Cola, Fanta, Sprite and Schweppes can multipacks. KeelClip™ is ecological, practical, entirely recyclable and biodegradable packaging.
The raw material for producing KeelClip™ comes from regenerable sources: recyclled cardboard or sourced from forests planted solely with this purpose. The company has started listing the products with the new packaging at the end of March and the complete transition to the new cardboard collective packaging will be finalized by the end of 2021.
The impact of this investment reflects in the reduction of the plastic we introduce on the market by 100 tons in 2021, which will double in the next years. In addition, the energy consumption during production is reduced by 15%.
"We continue our journey to become a "Company for all" in a world without waste, with care for consumer needs and responsibility for nature. Packaging innovations are an area we have been investing in since 2014, when we launched Dorna natural mineral waters in a package with a 30% plant content. We then continued in 2019, with the launch of our portfolio of natural mineral waters in recycled PET, and in 2021, with the introduction of Keel Clip ™, a collective packaging alternative that replaces plastic wrap. And because we want to leave a better world behind us, our efforts to reduce the impact on the environment do not stop here. We have set ambitious goals, and innovation at packaging level is one of the main pillars that will bring us closer to achieving them ", said Paris Nikolopoulos, Franchise Country Manager, Coca-Cola Romania
—
"KeelClip™ is an innovative technology and we are glad to be the first ones to introduce the new packaging to Romania. Consumer behavior changed a lot during the last year. Consumers are recreating the experiences they had HoReCa at home. That's why we focused on delivering products in stores in smaller packages that meet current consumer needs. We have thus invested in the collective packaging for CANs, Keel Clip™. It has an attractive appearance and is practical, which will help us respond to consumer needs, adding the benefit of a biodegradable packaging, which is easier to recycle than plastic wrap.", says Jovan Radosavjlevic, General Manager Coca-Cola HBC România.
Coca-Cola's global objective is to recover the equivalent of 100% of the quantity of packaging placed on the market by 2030. The objective is part of the company's strategy "A world without waste", and in 2020, the company has recovered for recycling 70% of the primary packaging introduced on the market.