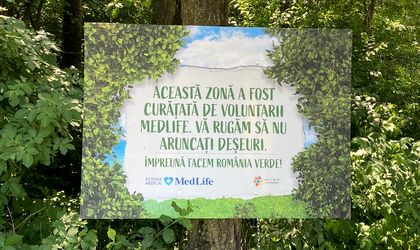 On the occasion of the World Environment Day, marked every year on June 5, MedLife continued the mission to make Romania Green, to heal both people and nature, through an awareness campaign, but also a greening action. The role of World Environment Day is to raise awareness among society about the importance of respecting the environment, but also to take the necessary measures to protect it.
MedLife and Let's Do It Romania have greened an area in Corbeanca Forest
This year, in addition to the awareness campaign on the need to save resources, together with Let's Do It Romania team, over 30 MedLife employees collected all the irresponsibly stored waste and greened an area in Corbeanca Forest. Thus, in a single day, more than 140 kg of waste was collected.
"The desire to do good, including for the environment, has become our commitment to a nation and the "good" has become our responsibility to those around us. Through this action, we want to encourage employees and partners across the country to act responsibly towards the environment. Only together we can make Romania Green, and greening is an important step in this process ", said Ina Ilie, PR Manager of MedLife Romania.
We make Romania Green, a long-term commitment
We make Romania Green, a commitment that MedLife has assumed as a company, to have an ethical and responsible behavior towards society, improving in various ways the life of the community.
The start of the project took place in 2017 when the company planted a tree for each child born in MedLife maternity hospitals. A new life brought a green breath to Romania.
At the end of 2018, MedLife managed to complete the reforestation of 10 ha of land in the Făgăraș Mountains – 40,000 seedlings of fir, beech and spruce were planted, thus laying the foundations for the ecological reconstruction of an area difficult to access and deeply affected by exploitation inadequate forestry. Also in 2018, they outlined the longest letter with promises for future generations. Thus, for five months, the letter gathered over 2000 messages from parents, future parents, but also MedLife employees. In order for the promises to take root, the letter was symbolically planted in a time capsule in the Făgăraș Mountains at the starting point for a new tourist route in the Făgăraș Mountains area, especially after the forest will take root and change the appearance of the area. In 2019, a large team of doctors and support staff from Bucharest, Sibiu, Cluj-Napoca, Craiova and Iași, contributed to the planting of fir and spruce seedlings on a plateau in the Făgăraș Mountains. Thus, 70 MedLife volunteers planted 15,000 seedlings for a greener Romania.
Every year, the company tries to recycle as much as possible and use all existing means to reduce consumption and have energy efficiency in each MedLife clinic.