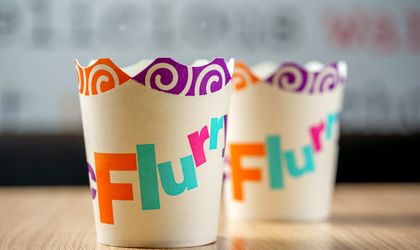 McDonald's continues to introduce alternative packaging solutions and starting in June salads will be served in new cardboard packaging, along with wooden cutlery, in all restaurants in Romania. Through this and other actions, the company estimates that it will reduce plastic use in its restaurants by 120 tonnes this year.
The initiative is part of the Better M programme through which the company carries out a series of local actions with the aim of replacing plastic packaging with more environmentally friendly alternatives. Thus, McDonald's Romania aligns to the company global commitment that, by 2025, the packaging intended for customers in all its restaurants will be 100% produced from renewable, recycled or certified sources.
"We align with McDonald's global promise to replace all plastic packaging by 2025 and contribute to meet the objectives by constantly developing and implementing new solutions in Romania. At the same time, we make sure that we maintain highest product standards and the best experience for our customers. Gradually, through all these actions, we are taking important steps and we estimate that we will reduce the amount of plastic used in our restaurants in 2021 by 120 tonnes. We will continue to test different alternatives to meet customer preferences, but also our goal to build a sustainable future with them, as part of the process of constant improving packaging solutions," said Paul Dragan, Managing Director of Premier Restaurants Romania.
Step by step from small to big
The Better M programme includes all the actions carried out by McDonald's in Romania with the aim of constantly improving the materials for the product packaging in order to reduce the amount of plastic used in restaurants and achieve the global goals by 2025.
In Romania, these steps have been gradually implemented since last year:
January 2020 – the first step was made by replacing the packaging of McFlurry ice cream with a cardboard one without a plastic lid;
October 2020 – the "Straw on request" initiative was launched, through which straws were offered to customers only on request;
February 2021 – plastic straws were replaced with paper, biodegradable and compostable straws, which are still offered on request.
May-June 2021 – a new salad packaging from cardboard and wooden cutlery are introduced
This year, the packaging of McSundae ice cream will also be replaced with a new alternative, and the efforts to contribute to a more sustainable future will continue in the coming years.
More details on the Better M initiative can be accessed here.