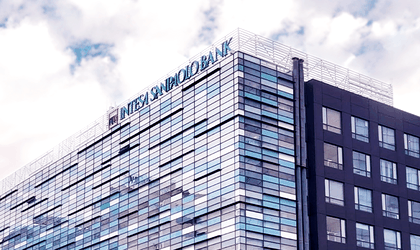 Intesa Sanpaolo Bank, the Romanian subsidiary of the Intesa Sanpaolo Group, recently granted to the Romanian company SUPERCOM SA a credit facility worth RON 19,6 million (~ 4 million EURO) necessary to acquire equipment, all new, specially designed for cleaning and selective waste collection, incorporating the latest technology in the field and a low level of pollution.
Through this financing, Intesa Sanpaolo Bank Romania is in line with Intesa Sanpaolo Group's efforts, which since 2015 has become a strategic partner of the Ellen MacArthur Foundation, the most influential and powerful organization dedicated to the Circular Economy. To support this partnership, Intesa Sanpaolo's business plan for 2018-2021 includes the launch of a EUR 6 billion credit facility. The Plafond for the Circular Economy is accessed also by Intesa Sanpaolo Bank Romania for the above-mentioned financing and offers the most innovative clients /projects credit facilities in advantageous conditions. Access to these facilities is assessed against a set of five eligibility criteria, developed in partnership with the Ellen MacArthur Foundation and three additional criteria related to green projects.
The credit facility to SUPERCOM SA was granted with the consulting support of the Circular Economy Desk of Intesa Sanpaolo Innovation Center, a company of Intesa Sanpaolo Group dedicated to innovating and spreading the circular economy.
 "We have the ability to come up with advantageous financial solutions for innovative companies, which have understood the benefits of the Circular Economy. The Circular Economy is one of the most important new development frameworks, improving the resilience of companies and sustainably transforming business models. Intesa Sanpaolo wants to support the growth of its customers by adopting innovative solutions ", said Dan Sandu, CEO of Intesa Sanpaolo Bank Romania.
This year, Supercom aims to raise industry standards for public sanitation and waste management and become a benchmark in this field. For this purpose, we have accessed the credit facility offered by Intesa Sanpaolo Bank and we will start large-scale investigations in high-performance equipment and technology that we will use mainly for waste collection and transport in our new project in Cluj County, "said Ilie Ionel Ciuclea, President of Supercom SA