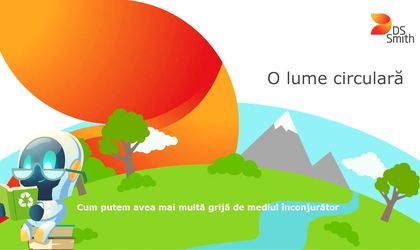 The environmental education project launched this Autumn by DS Smith, leading sustainable packaging company, continues to be a great success. Over 300 elementary students from schools in Zărnești joined this initiative, attending interactive sessions delivered by company representatives.
The main goal was to help children to get a better understanding of the key concepts like recycling, preservation of natural resources and environmental protection. As part of the project, the participants had the opportunity to learn more on the paper manufacturing technology used by the DS Smith Zărnești paper mill, where raw material is fully sourced from recyclable sources.
In the second part of the project, each class was invited to enter an exciting competition where students were asked to identify and photograph as many recyclable objects as possible – at home or at school. The photos were later analysed by a committee assembled in each school and winners were rewarded with a with a printer and a video projector by DS Smith Zărnești – valuable assets for a modern educational experience. A 2nd grade student won a special prize – a tablet – thanks to a recycling paper experiment she conducted and documented at home.
"Children can play a big part in the change that our community and the environment need. We wanted to show, through play, what selective collection and recycling are all about and how our actions, apparently insignificant, are actually a step forward to a cleaner city. The positive feedback received from both students and teachers exceeded our expectations and we are confident that we will be able to continue this initiative over the years to come", said Diana Ciuraru, Human Resources Director at DS Smith Zărnești.
DS Smith Zărnești is the largest paper manufacturer in Romania, accounting for almost half of the domestic demand.
DS Smith's operations in Romania comprises of a recycling head office in Bucharest, two recycling depots in Otopeni and Cluj Napoca, a paper mill in Zărnești, two packaging production units in Ghimbav and Timișoara and three service centers in Pitești, Timișoara and Otopeni, employing in total over 650 people.