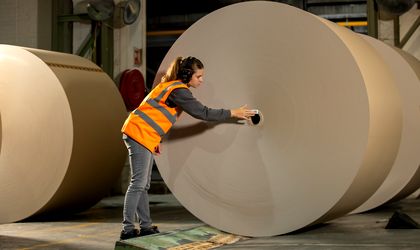 DS Smith, the FTSE 100 leading sustainable packaging company, recently announces its ambitious commitment to align its global operations to a 1.5°C scenario as set out in the Paris Climate Agreement. The roadmap to 1.5°C has been submitted for verification by the Science Based Targets initiative (SBTi).
To achieve this, DS Smith is accelerating the reduction of carbon emissions for its operations, as well as those of its partners and suppliers, by committing to reducing its Scope 1, 2, and 3 Green House Gas (GHG) emissions by 46% on an absolute basis by 2030, compared to 2019 levels. These targets will keep DS Smith, which is a member of the UN's Race to Zero initiative, in line with its prior commitment to reach Net Zero** carbon emissions by 2050.
Miles Roberts, Group Chief Executive at DS Smith said: "Today's announcement demonstrates our ambition in reducing carbon as part of our long-term sustainability focus. This commitment not only ensures our business is leading the way in reducing our carbon footprint but also guarantees we are challenging our suppliers and partners to do the same. Our business has ambitious growth plans over the coming years as we lead the transition to a circular economy and these commitments are a crucial part of our Now and Next sustainability strategy which will see us create a positive impact for people and the planet both now and in the future."
Investing in the future
To deliver on this commitment, DS Smith will invest consistently over the next 28 years in its operations. The investment will be made into the adoption of next-generation engineering solutions, such as biomethane boiler technology. The company will also harness self-generated renewable energy sources, such as wind and solar, and power purchasing agreements to replace grid electricity.
Working with our partners
DS Smith will also engage with all its strategic suppliers to encourage them to adopt science-based targets by 2027. This follows feedback from stakeholders, who are seeking to work with like-minded businesses committed to Science Based Targets and Net Zero, alongside a commitment to the circular economy. As part of this approach, DS Smith will work closely with partners, suppliers, customers, and policymakers to collectively tackle climate change through the circular economy in line with DS Smith's ambitious goals.
Committing to Net Zero
Supporting the delivery of these commitments is an ambitious Net Zero transition plan which will set out the key strategic actions and milestones that will define DS Smith's transition to Net-Zero. The plan, which will be published this summer, is aligned with the Group's growth strategy and outlines the initiatives that will be undertaken, prioritizing the greatest sources of GHG emissions.
Andrew Morlet, CEO, Ellen MacArthur Foundation said: "The Foundation's report, Completing the Picture: How the Circular Economy Tackles Climate Change, shows that although the renewable energy transition is vital to tackling climate change, almost half of global GHG emissions come from the way we make and use products and food. We need a circular economy — one designed to eliminate waste, circulate products and materials, and regenerate nature, to tackle those emissions and achieve the targets set out in the Paris Agreement. Today's announcement shows that our Strategic Partner, DS Smith, is committed to ambitious action on both renewables and the circular economy."
—
Wouter van Tol, Head of Government, Community Affairs & Sustainability at DS Smith added: "Following COP26, there has never been a more crucial time for businesses to demonstrate how they are supporting the fight against global warming. DS Smith is uniquely positioned to help its customers through the delivery of circular solutions and today's announcement will enable us to do that with even more impact.