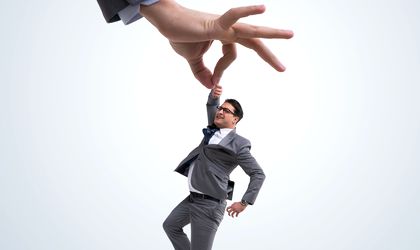 On a labour market that is dominated by fierce competition between companies trying to attract and keep talent, employee retention is a serious challenge for HR departments. Regardless of their size or industry, organisations are making significant efforts to identify the elements that make or break an employee's decision to stay in a company.
By Anda Sebesi & Aurel Constantin
"In our view, retention starts with the ability to articulate what type of organisational culture we have and with the beliefs and behaviours that make up this culture. If we hire people who resonate with these elements, then both retention and satisfaction among employees will increase," says Gabriela Neamtu, head of corporate centre & HR at Mol Romania.
The Group has a programme called Culture 2030, which is intended to align the company's organisational culture to the strategy it has announced for 2030. "In order to support all the changes, we first need to understand our existing culture and the ways in which we work and interact with our employees," Neamtu adds.
Since it's becoming abundantly clear that the future belongs to hybrid work, Luminita Florea, people & culture director at Philip Morris Romania, thinks that the common struggle for both employers and employees is the fact that we still don't have all the answers about this new way of working. "Some companies conduct tests among their employees to see how they handle the mix between working from home and working from the office. But I think that the best approach is accepting the uncertainty and the fact that we are moving into a certain direction, testing things out, adjusting, and keeping the things that work," Florea argues.
With that in mind, she says that customising working schedules based on the needs of employees could be a valid solution. "We've conducted several surveys among our employees and found out that about 10 percent of them would prefer to go to the office on a permanent basis because they feel more productive there."
Florea adds that while the work from home option was rarely used by its employees before the pandemic, the outbreak of covid-19 made it crucial for the company to develop managerial skills that were adapted to remote work. "We run a management development programme for managers of remote teams as well as a series of trainings for these teams to help them understand why the paradigm has changed. As a result, online collaboration is currently integrated at all levels."
According to the Philip Morris Romania representative, the company is now focused on imagining how its business and the local labour market will look like in the next three to five years, trying to understand how digitalization will impact the company's operations, and identifying the skills that should be developed right now in order for current employees or those who will join the company in the near future to be successful in their careers. And this is even more important considering the fact that global studies have shown that on average, people change their job 11 times during a 30-35-year work life. "Advancement could be achieved by either improving existing skills or acquiring new ones," says Daniela Vercellino, human resources director at Societe Generale Global Solution Centre. The company recently developed a redeployment programme designed to create new career opportunities inside the company. "It was a large project that proved that redeployment is possible when you provide the right tools," she adds.
How companies foster wellbeing for employees
The pandemic has highlighted the fact that mental and physical health are crucial for an employee's wellbeing. As a result, companies decided to make wellbeing a top priority for both their HR departments and leaders. "Attention has shifted from performance, retention, and productivity towards caring for our people. The HR team has played a crucial role in supporting employees and keeping them connected while working online, allowing them to talk to a specialist when they faced stress or anxiety, and helping them feel safe from a financial perspective," says Alina Amza, group wellbeing & inclusion director at Superbet. The company implemented an assistance programme, launched the OPAL project, created an internal newsletter, organised 80 workshops on various topics, and constantly communicated with its employees. "All these initiatives represent a solid foundation for a coherent wellbeing strategy. We went from a reactive approach to a preventative one," Amza explains.
She adds that a key word related to wellbeing—both in general and in Superbet's case—is co-creation or collaboration, meaning that everything the company does in this area is developed through collaboration with its employees. "Wellbeing should be multidimensional because it is influenced by many factors. In addition, companies should have a systemic approach, as all the employees and leaders of an organisation have a role in enhancing the impact of wellbeing. Plus, there is a need to customise wellbeing interventions according to the specific needs of a group of employees."
International research has shown that about 25 percent of the European workforce suffers from an undiagnosed emotional disorder such as anxiety or depression, with the coronavirus pandemic having deepened these emotions even more. "We therefore decided to focus on this area, alongside parenting-related and online fitness workshops. Our HR department played by far the most important role, as it led our management to switching focus from delivery and productivity to employees' physical and mental wellbeing," Vercellino adds.
Elsewhere, Neamtu of Mol Romania says that the company has tried to provide as much relevant information as possible to its employees, using a wide range of internal communication tools: newsletters on various topics (including legal topics with an impact on the company's activity), letters from management, periodic online meetings to present the activity of each department, a Yammer channel, internal surveys to collect feedback about flexi-work and working from home. "We always disseminated the results of these feedback exercises, as we believe it is important for us to be transparent," Neamtu states.
As for Schneider Electric, Cristina Mancas, SEE HR vice-president, says that the company had a dedicated committee even before the pandemic, which would come up with different wellbeing initiatives for employees. Since the pandemic began, the company has organised many online workshops with a high engagement rate, townhalls, and face-to-face teambuilding sessions with a limited number of participants. "This July, we also started the Employee Assistance Programme, which gathers colleagues from the South East Europe region to offer support for employees and their family members on different topics like career opportunities or remote management." Last but not least, the company has implemented Open Talent Market, a platform where Schneider's worldwide employees can register as mentors. "The project has brought a high level of visibility and transparency regarding open positions at the group level and has eased collaboration on projects."
Flexibility as a core value
According to Pluria Romania co-founder Andrei Cretu, it is clear that companies should provide flexibility to their employees, as the new way of working is no longer linked to the office and organisations have access to talents worldwide. "The problem is how we organise hybrid work. We are now overwhelmed by messages about the new way of working, but it is obvious that everything is moving towards higher levels of employee autonomy." Cretu adds that the company he co-founded has operations in Romania, Spain, and Columbia, and that its platform is specialised in managing hybrid work. "Using an app, employees can book a meeting room or an office at their company's office building or at one of our co-working spaces." He also points out that society is now at a tipping point, and if companies resist the change and force the return to the old way of working from the office, they might not be able to attract new talent or even lose the people they have. "Some studies show that 70-80 percent of employees value flexibility when they choose to work for a company. Employees need trust and autonomy. Only companies that offer these benefits can become sustainable in terms of their workforce," Cretu concludes.