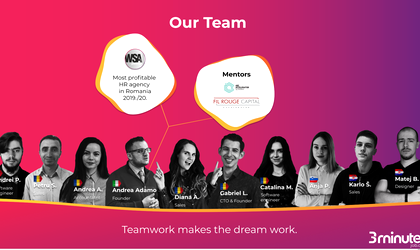 Tech startup 3minutesjob.com, the platform that connects employers with users aged 18-25 looking for a job internationally with the help of three one-minute videos, has come to be used globally in over 100 countries.
The 3minutesjob platform, a tech start-up launched in Brașov by the Italian entrepreneur Andrea Adamo, reached a growth of 315% in just four months and reached the end of April 2021 at a number of 14,500 users, compared to 3,500 users at the end of 2020.
3 Minutes Job is a recruiting platform for HR professionals to recruit nationally or internationally. Candidates can upload a video CV, add pictures and location which will make recruiters hunt faster.
The growth of 3minutesjob in 2021 has been accelerated by implementing a proactive go-to-market strategy, based on direct sales and social media campaigns. Thus, out of 2,000 daily accesses on the platform, 12% turn into users, according to 3minutesjob data.
"Our vision is based on years of traveling and living abroad, we believe diversities are a treasure. Every human has to have equal opportunities while looking for a job. Our staff is made of 50% women; we employ parents, first experience workers which are all working on a 6 hours per day flexible shift in order to let them enjoy their families and hobbies. At least 1% of our turnover is donated to non-governmental organizations. Because the labor market has become global, our mission is to connect candidates worldwide to the most suitable employer worldwide", said Andrea Adamo, founder of 3minutesjob.com, an Italian entrepreneur who settled in Brasov.

Andrea Adamo, CEO 3minutesjob
According to entrepreneur Andrea Adamo, the Covid-19 pandemic had a major impact on the labor market and employers had faster access to employees, the recruitment process being easier in many areas, and wage demands have fallen recently. However, in the context of the vaccination campaign and the reopening of the borders, the candidates will focus on companies that are inclusive, including in other countries, so the emigration trend will return and can be accentuated in the medium and long term.
"Through our platform, we prepare young people for a global society. From 2022, in the context of increasing demand on the labor market, I expect that we will return to a new influx of foreign specialists, so we are ready to allow large employers to have access to talent, "says Andrea Adamo.
Furthermore, the emigration process will start again and will influence the labor market starting with 2022, and the companies active on the Romanian market will again face a talent crisis. In addition, young people will give more and more importance to new criteria, such as the degree of inclusion of the employer, and will no longer be motivated only by the salary offer. Thus, according to international trends, especially in relation to labor market trends in the United States, young people will want to work in multicultural organizations, in an open world, without racism and other discrimination.
The tech start-up 3minutesjob.com has a multicultural and global team, currently having 10 employees, four are in Brașov, two in Vrancea County, one in Mureș County, one in Slovenia and two in Croatia.