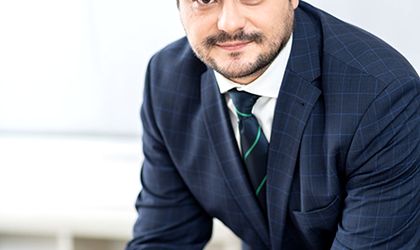 Roman holds a Law Bachelor's Degree, as well as a Master of Laws in Labour Law, both from the University of Bucharest, and started his legal career in 2009, while still a student, as an intern for Piperea & Associates Attorneys. After finishing his studies he went on to become an Associate in the firm (2011-2013), followed by another internal promotion to Senior Lawyer (2013-2015). From 2015 to 2017 he was a Senior Associate at Musat & Associates, before coming into his current role at Noerr LLP.
Mircea-Catalin was also a speaker at last year's Working Romania, where he talked about the Romanian bureaucracy not being "at its finest" because of complicated legislation. You can read his interventions at Working Romania Spring 2019 here.
Mircea-Catalin Roman advises Romanian and international clients from a large number of industries (including automotive, chemicals, primary and reinsurance, financial services, generic drugs, real estate, IT, food, media, food production, pharmaceutical) on employment and pensions. He represents clients in front of the Courts of Law and public authorities. He also advises clients on private enforcement and compliance issues and in dawn raid scenarios. In Employment law, Cătălin can refer to comprehensive experience and work for private clients and is a co-author on several law articles, including "The procedural valences of the law principle accesorium sequitur principale", published in December, 2016 in Romanian Jurisprudence Publication, no. 6/2016; and "The order of enforcement, a recurrent theme", published on February 16, 2016 on www.juridice.ro. He is also the  of co-author of the legislation review and collection of comments: "New Civil Procedure Code. Notes. Correlations. Explanations", C.H. Beck Publishing, Bucharest, 2012 (articles 730 through 817).
Find out more about Working Romania's agenda, speakers, partners, and book your place at BR's first HR event of 2020.