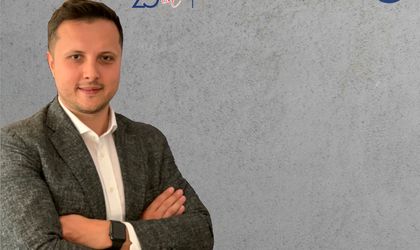 Business Review announces Marian Patrascu, Head of Sales and Talent Acquisition at APT PROHUMAN, as a speaker at the first HR event of the year, Working Romania, streamed live online in our dedicated Facebook and LinkedIn groups, Future of Work by Business Review.
Marian Patrascu, a 15-years experienced professional, graduated from the Romanian-American University of Bucharest, holding a Bachelor's degree in Management and Marketing and a Master's in Management in Commercial Business, and started out as an HR Consultant with Adecco in 2005. From there, he went on to become a Branch Manager for Organizacion Activa, coordinating all HR activities of the Bucharest branch, a Business Development Manager for PayOut Payroll Outsourcing, Area Manager for Gi Group Romania, and again a Business Development Manager for Randstad, before coming into his current role, Head of Sales and Talent Acquisition with APT PROHUMAN.
Marian is passionate about human resources, business trends, technology and innovation. He has over 12 years of experience in the field of human resources of which 10 in the international human resources companies where he coordinated sales activity and human resources operations moving gradually from the operational human resources work to a complex Account Management.
Marian developed a perfect understanding of the field in which he operates by actively listening and correctly appreciating the relationship between need and offer. His abilities are in the following fields: Human Resources Consulting, Recruitment & Selection, Business Planning, Sales Management, Temporary Work and Outsourcing.
Business Review is proud to have such a seasoned HR professional as one of Working Romania's speakers.
Find out more about Working Romania's agenda, speakers, and partners.