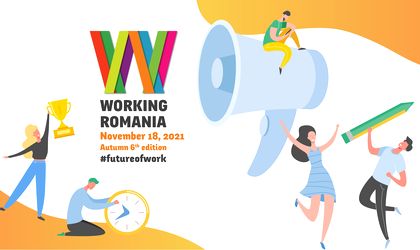 The 6th edition of BR's Working Romania is here, so tune in with a great roster of speakers exploring the HR trends of 2022 and sharing valuable insights into the #futureofwork! The event goes live at 10 AM.
For an enhanced experience, the Autumn 2021 edition of Working Romania will be streamed through the MEETING15 platform, which enables a better interaction between our speakers, moderators, and audience members. If you haven't registered yet on the Working Romania event page or on the dedicated LinkedIn event please use this link to access the live conference on the MEETING15 web platform. Event partners: Philip Morris Romania, Superbet, Vastint Romania, MOL Romania, SAP, Schneider Electric, Societe Generale Global Solution Centre, TotalSoft, The Adecco Group, Pluria, BestJobs, Holograma 3D – Think Events, Romanian Diversity Chamber of Commerce (RDCC).
Alternatively, you can always watch the live conference on BR's official YouTube channel or in the dedicated Facebook event.
Claim a free one-day pass to work in the V7 Startup Studio!
All Working Romania | Autumn 2021 Edition registered audience members are eligible, so register for Business Review's HR conference and you will receive instructions on how to claim your free pass.
What to expect at Working Romania | Autumn 2021 Edition?
📅 When? Thursday, November 18, 2021
10:00 | Opening Panel | Keeping an eye on the #futureofwork
• Kick-starting 2022 changes to work patterns: working from home, remote, turning digital. Which are the ones that will stay with us?
• Upskilling the Romanian workforce and turning from low-skilled jobs to highly qualified ones. Will the employees be able to make it through the change?
• Educating the workforce: programs created by private companies for employees and students to learn new skills. Is this enough to cover the growing needs of the private sector in terms of workforce?
• Retaining & keeping talents in the company: what do companies need to do in order to keep their employees?
• What are the top employers' plans for the foreseeable future?
• Legal updates, regulations & norms
11:35 | Stage Spotlight: How The Magic Is Being Done?
• Innovative technologies and solutions designed for HR professionals that offer true value and should be considered in future investment plans.
11:55 | All-Star Panel | Employer Branding: Adapting to the new way we work, live, and connect
• TRANSFORM TO PERFORM: a strong employer brand is still needed as employee safety, well-being and belonging are at the forefront
• NEW FUTURE OF BUSINESS: what positive behaviours organizations will redesign to get people engaged, supported and committed to do their best?
• 2022 TRENDS & PREDICTIONS
• SHAPING THE FUTURE WORKFORCE.
• What are the employees most desired benefits? How easy can these demands be covered by employers?
Working Romania pre- and post-event discussions and announcements will also be hosted in our HR Elite Professionals Communities on LinkedIn & Facebook. Just like the past editions of the Working Romania event, group membership is exclusive to HR professionals, bringing together +550 premium members in a friendly and engaging online environment.
Make sure to join the dedicated HR #futureofwork groups on Facebook & LinkedIn.