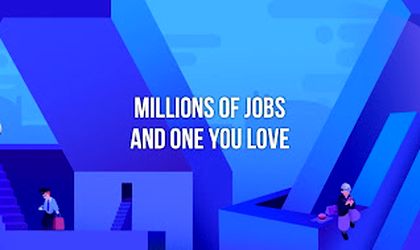 A successful start-up begins by identifying a real problem and addressing it with real solutions. This is the case for the AI-powered job search platform, Lensa. Founder, Gergo Vari, realized that the hiring process was broken. And armed with a passion for technology and entrepreneurship, he and his team set out to do something about it.
When Lensa was launched in 2016, job search platforms were designed to get clicks. This meant job seekers had to navigate through irrelevant ads, duplicate ads, and advertisements disguised as ads. Lensa had the unique approach of creating a job search platform that used artificial intelligence – not to generate clicks but to match job seekers with jobs they are qualified for and likely to succeed in.
Lensa was one of the first to apply artificial intelligence, machine learning, and automation to the recruitment process. And it didn't take long for other platforms to notice the advantages. In fact, these technological advancements have been so successful that over 80% of companies now use artificial intelligence in their recruitment processes. 
The Need for Speed
Much like with many sectors of activity, the main goal of modern-day recruitment is speed. Do more, and do it faster. That's efficiency. That's today's business world in a nutshell. And HR departments and the hiring process are no exception.
One of the major advantages artificial intelligence brings to the recruitment process is exactly that: speed. Reduce or eliminate repetitive, menial tasks through automation and machine-learning technologies, and HR professionals suddenly have a lot more time on their hands – time they can put to use in more innovative ways like implroving candidate experience. 
The advantages of using AI in the recruitment process are multiple. In addition to being able to do more and do it faster, AI allows both HR professionals and job seekers to make better data-driven decisions. This is a vast improvements on traditional recruitment methods.
Advantages of AI compared to traditional recruitment methods 
In addition to adding speed to the recruit process, artificial intelligence brings about other significant adantages.
Increased Diversity
In today's business environment, diversity is more than a buzzword. It's an imperative. Traditional recruitment strategies limit diversity. this is due to several factors.
A reach demographically restricted compared to online recruitment
Susceptibility to biases (both conscious and unconscious), whereas AI systems are free of biases (assuming the algorithms are regularly audited to control for hiring bias)
Artificial intelligence, on the other hand, offers recruiters and HR professionals the possibility to make data-driven hiring decisions. AI systems (when programmed right) are not limited by demograhics. They are not susceptible to biases. They match employers with the employees they need. Full stop.
The result is a company with greater diversity in its employees. this has been shown to have multiple long-standing benefits.
An improvement in company culture
An improvement in employee engagement and, in consequence, productivity
The company is more attractive to top talent
A significant increase in employee retention
A greater cance of customers identifying with the brand and/or company
Higher Success Rate
With traditional recruitment, there is no specialized job matching done with the candidates. This means that HR professionals are obliged to "cast a wide net." Job listings are virtually (pardon the pun) randomized relying on a hit-or-miss kind of strategy, which invariably leads to lower success rates. 
AI, on the other hand, allows jrecruiters and HR professionals to refine their search and target job seekers who possess the skills and qualificatrions specific to the job they need to fill. Gone is the guesswork. And the result is a higher success rate: employees who are more likely to excel at their jobs, stay with the company, and even go on to be promoted within the company at a later date.
Flexibility
Traditional methods are rather rigid when compared to recruitment using AI. Depending on the format of the job ad, be it a newspaper ad, flyer, or poster, there are certain limitations that make it less appealing to job seekers. Less information can be printed due to a lack of space. And making changes or corrections to a listing is time-consuming and costly (if possible at all). 
AI analyzes data points collected from millions of job postings and resumes online. As trends change, so must the job offers. And AI gives HR professionals not only the know-how to stay ahead of the curve but it gives them the flexibility to make thos eneeded changes.
Greater Cost Efficiency
Do you like paying more for an inferior service? HR managers don't. But that's exactly what they do when they stay with traditional methods and don't take advantage of the latest technological advancements.
Traditional methods end up costing companies more for a variety of reasons.
Attracting underqualified candidates leads to more ressources spent on training. 
A higher quit rate (from job seekers being porrly matched) leads to more ressources spent on hiring and re-hiring for the same position. 
HR managers spend a significant portion of their time on repetitive and menial tasks. This increases the need for more staff, and less time can be spent on innovation. 
AI is cost-effective. It relieves HR professionals of many of their repetitive tasks. And it improves the success rate of hires, which means they are more likely to get the hire right the first time and won't have to waste resources on repeating the process.
Conclusion 
Artificial intelligence, spearheaded by companies such as Lensa, has been a revolutionary in the world of recruitment. AI helps recruiters and HR teams work faster, more efficiently, and reach higher success rates. The competitive advantage HR managers have when they use AI means that it is no longer a luxury for HR professionals but a necessity.