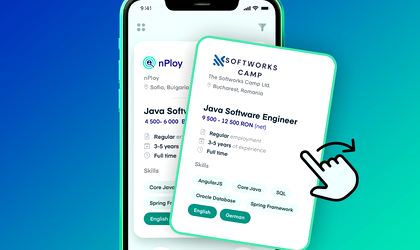 The Bulgarian online job search start-up nPloy launches on the Romanian market following a €2 million investment round in 2022. The startup developed in Central and Eastern Europe has already attracted over 125,000 users and more than 1,000 companies since its launch in 2018.
What is nPloy?
nPloy is a mobile and web application that directly connects candidates and employers based on the dating apps model. It is powered by an AI algorithm which matches talents with jobs based on a set of criteria including salary expectations, skills, experience, location, job type, etc. Thus, both job seekers and recruiters can skip shooting in the dark and save time to focus on their best fits.
"With a rapidly growing economy and internationally recognised skilled workforce, Romania has long been a market of interest for us, and we are thrilled to finally have the chance to make technology advancements available here", says nPloy Co-Founder, Konstantin Tzonev. "I believe our platform will be particularly valuable to Romanian companies looking to scale their operations and stay competitive in a rapidly changing business landscape", he adds.
How does it work?
The smart algorithm automates the preselection process, thus enabling faster recruitment, more qualified candidates, and higher efficiency. Recruiters also have access to the anonymized database in which they can identify top candidates based on their skills and experience and send them an invitation to apply (match request).
What are the benefits for users?
The start-up's estimations show that recruiters using nPloy save about 1,5 hours per day and candidates find it's 3 times easier to apply for a job thanks to the intuitive dating app interface. In addition, the data reveal that 1 out of each 4 candidates reaches an interview which is slightly higher than average success rates reported by other job platforms.
Salary expectations matched
More than 95% of candidates are interested in knowing the salary range before applying. nPloy's algorithm makes sure they only get to see jobs that meet their financial requirements right from the start.
nPloy encourages transparent recruitment
nPloy encourages an impartial and transparent recruitment process for all parties involved, which is why the platform guarantees anonymity of candidates until there is a match with an employer. Meaning that before mutual interest, companies gain access to each candidate's professional experience and skills, excluding personal data such as name, gender, age and current employer. This eliminates the practice of cold-calling candidates and employers save time and recruit efficiently.
Application status
nPloy is the only recruitment platform in CEE in which candidates always know what happens with their application. The status shows whether it has been reviewed, approved or rejected.
Moreover, candidates also get specific feedback if they are unmatched by the company. On the other hand, as with dating platforms, when there is interest on both sides, a chat is automatically opened between them. Recruiters can also schedule a video interview directly in the app.
Is it free to use?
It's free to use for candidates and can be downloaded on the Apple app store and Google Play Store.
Companies can choose between various on their recruitment needs, the number of jobs available or the profile of the candidates they are looking for. nPloy subscriptions are also specifically designed to streamline the recruitment process by providing marketing & employer branding services at no additional cost.