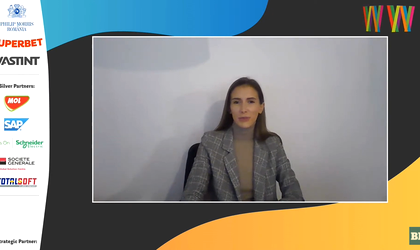 The pandemic has made the world aware that you can adapt very quickly to the unpredictable. In order to embrace resilience, companies need employees who are as motivated and supportive as possible. The Future of Work concept is based on innovative technology. Two years ago, SAP started a transition from Human Capital Management to Human Experience Management, a cultural shift towards recognising employees' entire experience in any kind of organisation.
Irina Tache, Solution Sales Executive Romania, West Balkans & Bulgaria at SAP
Technologies such as machine learning, AI, chatbots, and others help companies gain a much better understanding of their employees. The user experience part focuses on how people consume technology, while AI shows how repetitive tasks can be automated so that employees are free to focus on the creative side. But AI cannot infer the existence of information that the system is not aware of, it cannot answer questions that have not been previously conceptualised. Therefore, organisations must focus on employees, not just on automating tasks, and on skills that cannot be replicated by neither Machine Learning nor AI. But employees also need to share more of what they feel, do, and want, to make it easier for the company to understand.
A fundamental concept says that people's satisfaction depends less on their position in the company and more on what they actually do inside that organisation. The Success Factors Opportunity Marketplace solution is built on this concept, gathering all HR data to connect people with opportunities. Employees are looking for the best job and the best salary; organisations are facing a battle for talent, especially in a time of skill shortages. Therefore, companies that ensure internal mobility, where employees can easily evolve, are the ones that will win this fight. There are organisations that have already implemented this solution and have managed to bring it to an advanced level, but many are still just beginning. Last year, SAP announced that it would accelerate investment in cloud solutions and help companies move to cloud setups so that they could be as resilient as possible in the future, as change is now the only constant. Gartner predicts that 80 percent of companies will stop using on-premise solutions by 2025. For SAP, user experience, analytics, and time-tracking are major areas of investments, as these are elements that improve the relationship between employers and employees.