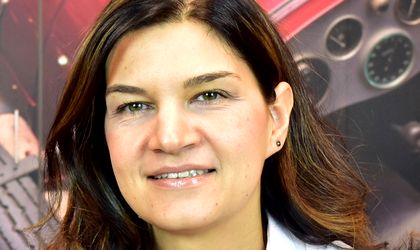 At the recent Working Romania online conference, Madalina Racovitan, Partner & Head of People services at KPMG, talked about QuercusApp Performance, a cloud-based technology solution that supports digitization of Performance processes developed by KPMG. Interested to find out more about the app, Business Review followed up with Madalina for a more in-depth talk about the features, capabilities and solutions offered by QuercusApp Performance in an exclusive #FUTUREOFWORK interview.
By Mihai Cristea
Our viewers and us found out about QuercusApp Performance at the Working Romania online conference. For those who haven't watched, please tell us what is the main concept behind QuercusApp Performance?
KPMG has developed a unique technology-enabled solution for continuous feedback and Performance Management, blending continuous performance principles with increased efficiency and productivity benefits brought by digitization.
KPMG QuercusApp Performance enables real time feedback exchange on a continuous basis. Employees and managers can ask for and give feedback in real-time, they can monitor performance and skill level through the application dashboard and are thus able to act upon it by improving or coaching others every day.
The Performance module of the application allows companies to digitize the entire Performance Management process from objectives or key results setting, progress reviews and check-ins, to performance reviews.
What was KPMG's motivation to develop this solution?
As organizations and their workforce become more agile and strategies more dynamic to account for the disruption around us all, traditional cycles of annual reviews are no longer relevant.
Organizations must now respond to uncertainty, complexity and diversity with a new mindset, new business models, and new processes. Most of the organizational processes which we have used in the past are no longer suitable for the future or even the present.
With technologies built to automate and streamline the way we work to the way we continue to redefine labor, performance management gets more and more complex. The future of Performance Management is more data-driven, more flexible, more continuous, and more development-oriented. Performance Management on paper is becoming obsolete. With digitized Performance Management both employee's and organization's goals have a better chance of success, best practices can be implemented successfully and they allow the entire process to be managed more efficiently.
The goal is, or should be, to create an environment that inspires connection and collaboration, using a thoughtfully designed digital approach to make people feel supported and perform throughout their day.
How will QuercusApp Performance help the organizations which will implement this solution?
KPMG offers to the Romanian market a unique technology solution – KPMG QuercusApp Performance, which supports companies in their digitization efforts. The application is designed based on the principles of continuous performance management, for the specific purpose of helping companies digitize the process and making the exchange of feedback as easy as possible, providing instant people analytics that support manager coaching and career development as well as making the whole performance process more agile.
QuercusApp Performance consists of two modules that are perfectly intertwined; it is built on a modular approach so that organizations can select one of these modules or both.
Can you talk us through those individual modules and what each of them brings to the table?
Through the Objectives module managers and employees can create objectives and assign Key Performance Indicators all year round with a few simple clicks. Objectives are designed to be dynamic, monitor achievement progress and keep up with your ever-changing environment.
The application enables real-time, ongoing feedback exchange on a continuous basis in a platform that is user-friendly, engaging and easy to adopt. The feedback is based on the relevant skills for each company, which makes it specific and structured. Employees and managers can ask for and give feedback in real-time; they can have a constant pulse on their performance and are thus able to act upon it by improving or coaching others every day, not just once a year.
Performance dashboards can give automated 'live' information on performance, including historical trend analysis or automatic analysis of feedback which makes identification of areas of development easier for all employees, managers and HR who can build targeted development interventions based on the analytics provided by the app.
The dynamic objectives and the performance reviews are fully aligned with the continuous performance management principles, allowing companies to create or adjust goals when necessary, to easily monitor them and run performance reviews as frequent as desired, deciding themselves what to assess in any given performance cycle. Whether a year-end, interim, quarterly check-in or even specific projects review, there is no need to remember a year's worth of work. It's all in the App, which makes for more meaningful performance discussions.
Talking about real-time feedback and live information, how will this work more specifically?
QuercusApp allows individuals to ask for and offer "just-in-time" feedback, so the quality of the feedback is greatly increased by being more timely, specific and actionable. Anyone can give feedback to anyone in the organization and the application will provide employees with a true "performance cockpit", highlighting their strengths and areas of development, based on the feedback received. Quercus's simple feedback giving features helps consolidate feedback culture, meeting employees' need for regular, real-time feedback.
The continuous feedback approach eases the performance review process, and it makes it more meaningful and objective. Managers no longer need to remember a year's worth of work for every single direct report. It's all already in the app as they have access to feedback received by employees throughout the year.
What is QuercusApp's main advantage?
Flexibility. Instead of setting objectives and then revisiting them once or twice a year, we now see a trend towards dynamic objectives that take account of the reality in business, as well as setting objectives around key projects, and then setting new objectives when the next project starts. At the end of the year, all of the progress and feedback is collated in one place with QuercusApp.
Given its flexibility, intuitive design and features, KPMG QuercusApp Performance can be an attractive solution both for companies who are in the early stages of digitization or still prefer the traditional annual review but also for organizations with more agile or complex Performance processes.
Also, from a technical viewpoint, as a cloud-based solution it is quick to implement and easy to maintain. The technical set up is quick and companies don't need to worry with hosting, maintenance or specialized resources to maintain it. As KPMG continues enhancing it, users enjoy its updates and enhancements.
What are the main benefits of using QuercusApp as an organization?
QuercusApp helps managers to stay in touch with the employees and contributes to employee productivity, satisfaction and retention. Through QuercusApp managers can communicate their expectations and vision to the team in a transparent and continuous manner. Employees have a clear line of sight with regards to company's expectations, get more clarity and less uncertainty regarding goals they need to pursue and expected behaviors as well as progress against expectations, and they receive the feedback, guidance and support they need in real time.
Feedback from employees and results reported by companies that use a continuous performance approach provide strong arguments for organizations that are still considering the next steps in using digital tools for their performance management process: increased motivation and engagement, reduced employee turnover and increased productivity.
Also, it helps employees improve every day, so the company's results are improved all year round. In a continuous performance management process, feedback flows freely throughout the year, and the corresponding data is always available. This allows the manager to get the most out of the talent of employees because they now have a real time view to spot and tackle skill-gaps immediately. Constant feedback enables employees to identify areas that require improvement on time and thus develop and enhance their performance constantly.