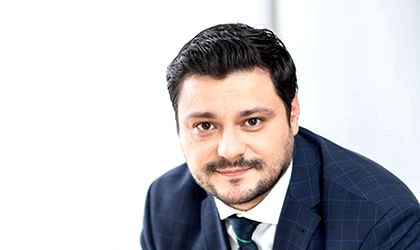 A future speaker at the upcoming Working Romania online conference, Catalin Roman was also part of a recent in-depth analysis of the local workforce market, which appeared in the April print issue of Business Review Magazine. With less than a week to go until Working Romania, Business Review brings you the full interview with the Noerr Senior Associate.
In the current conditions of the crisis generated by the COVID-19 pandemic, is Romania prepared for remote work during a longer period of time (from both employee and employer viewpoint)?
Most employers took matters into their own hands and bought, in due time, a large number of laptops in order to be able to operate in a remote work environment, but we can't ignore the possible security issues which can arise in this context.
While remote work is possible for most employees, there is a large part of the Romanian workforce which can't take advantage of this option, more specifically those in retail, production, banking, distribution, etc. According to Euromonitor stats, 52.9 percent of Romanian households have laptops, which means that our country is much better positioned than other European ones from this perspective.
Remote work for a longer period could be functional if there is effective control over the employee. This means they will be checked during working hours and they will fill out an activity report each day.
What will be the impact of this period on the workforce market and when do you think the local market will feel this impact the most?
We should take a look at entire sectors: a negative impact will be felt in industrial production, commerce (especially in tourism, restaurants, hotels, transportation). But if we talk about IT, delivery, and medical equipment manufacturing are favoured in the current context. The biggest impact is likely to be visible starting April and will continue during the summer.
Is technology an ally of companies during this period, speaking about the robot-assisted recruitment process?
Taking into consideration the current context, the robotization of the recruitment process would be beneficial, due to the speed in which hiring interviews can be conducted, but also the option of an automated adaptation to each candidate. But the decisional human factor must not be overlooked, based on the collected data, the best decision should be taken.
At what costs will the Romanian workforce market be able to absorb the effects of the current crisis?
The workforce market goes through a difficult period due to a decrease in foreign workers import, and also a decrease of the workforce offers as a consequence to the hit taken by SMEs. But, as many predictions show, unfortunately, even bigger enterprises, multinationals, will suffer in the current context, as a result of the pyramid effect.
If you enjoyed this interview and want to hear more from Catalin Roman, make sure to join the Future of Work, BR's exclusive HR networks on Facebook or LinkedIn, where the Working Romania conference will be streamed live on April 29, from 10 AM to 12:30 PM.