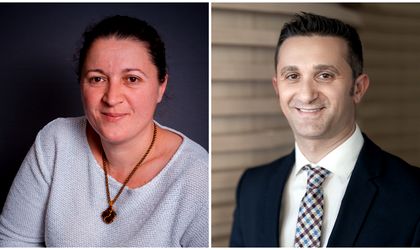 Thanks to the recent Working Romania HR conference, the #FUTUREOFWORK section, and the #HRSpotlight series, Business Review has followed closely all the latest innovations in HR technologies, which have seen a real surge this year due to the current context of accelerated digital transformation. But few of them got us so excited and curious as Carrefour Romania's newly launched Ema, a digital ecosystem that aims to streamline the company's HR processes. To find out more about Ema, BR talked to Carrefour Romania's Cosmina Nicolau (Recruitment and Employer Brand Manager) and Cătălin Samara (Chief Operations Officer) in an exclusive #FUTUREOFWORK spotlight.
First and foremost, what is Ema, and how did Carrefour Romania develop it?
Cosmina Nicolau: Ema is a digital ecosystem that integrates the first recruitment chatbot interface on the Romanian market, developed with UiPath technology, in partnership with two local companies, DRUID and RPAbox. This new system will revolutionize the recruitment process and will automate the interaction between employees and candidates.
What were the main reasons why Carrefour decided to create Ema?
Cătălin Samara: The operational speed in our stores is quite intense. Ema was born from the need to reduce as much as possible the time allocated to administrative activities in the HR department and to transform the back-office recruitment process with a simple click. Through the new interface, a unique one in Romania, our stores' managers just gained more time for their teams, our customers, and daily interactions with candidates. Day by day, the operational team is alongside our customers, making a tremendous effort to adapt to every context and offer the best and qualitative  services. Thus, Ema comes in help by providing flexibility and efficiency in the recruitment process.
How was Ema integrated by Carrefour Romania?
Cosmina Nicolau: The integration has been implemented both internally and externally through a friendly, clean, robust, and intuitive interface. The conversational technology was integrated by Carrefour together with DRUID, a Romanian company specialized in the development of intelligent virtual assistants, and RPAbox, a company specialized in Robotic Process Automation (RPA) solutions. Both brands successfully use UiPath technology in helping customers from all over the world to automate repetitive tasks so that teams could invest their time and energy into activities which add real value to their organization.
Tell us more about Ema's external interface. How does it work?
Cosmina Nicolau: The external interface is already live on the Careers Page on our website. Ema guides candidates and accompanies them through each step of the process of finding the  desired job as quickly as possible. All of this happens through a personalized, friendly, and intuitive conversation, complying with all GDPR standards. Candidates can apply in any store that has available jobs, selecting the desired city and position. Once registered, the application and the candidate profile will reach our recruiting manager directly and the interview can be instantly confirmed Both the candidate and the manager will get notifications about the important steps of the recruiting process by SMS.
What about the internal interface, how will Carrefour employees interact with Ema?
Cosmina Nicolau: The internal interface joined our Carrefour apps suite, available on any device that has an internet connection. The platform automatically recognizes the employee through the internal user and password. Ema will then display one of two different interfaces, depending on the employee's position in our organization. The first one, which automates the recruitment process, is dedicated to our recruiting managers and the HR department, being integrated with the career section on our website. It provides benefits in terms of time and efficiency to the managers from all 360 Carrefour stores across the country, and it will become a key advantage for the plans of our organization. The second one is accessible to all our colleagues who have an internal Carrefour user. For them, Ema will respond, instantly at any given time, to all the frequent questions involving certificates, vacations, health insurance, or any other information regarding rewards and benefits, mobility, or various HR policies and processes. Depending on the questions received, Ema is permanently trained and updated by the project team to correctly answer on its own to more varied queries, without the need to redirect the user to an HR specialist.
How does Ema change Carrefour Romania's overall HR strategy and processes?
Cosmina Nicolau: The adoption and incorporation of modern technology, robots, AI, and automation processes are all part of our accelerated digital transformation strategy. Today, Carrefour's Human Resources step into a whole new era: minimization of paper usage, without wasting time with tasks that don't bring any added value to our operational managers, with simplified and automated processes and easy to use systems. We are in the middle of a migration process towards a new system, actually; a whole new ecosystem, which encompasses SAP, Success Factors, and a personalized app for clocking and scheduling. The possibility of Ema's simple integration with all the current HR needs was the main requirement of this product, and all the chatbot's links that will surface after the migration will bring more extra time gained by our operational colleagues.
When will candidates be able to interact with Ema?
Cosmina Nicolau: Starting with November, Carrefour Romania invites all candidates to meet Ema in the Careers section of our website. After all, she is our new digital colleague from the HR department, and we're confident she will be able to offer a personalized and enjoyable experience to all users, both candidates and employees.