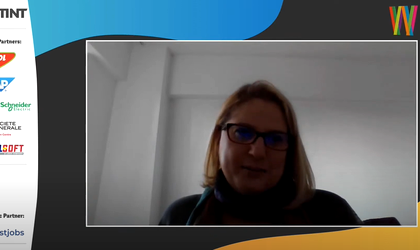 A speaker in the All-Star Employer Branding Panel at Working Romania HR Conference, Daniela Vercellino, Human Resources Director at Societe Generale Global Solution Centre, shared her insights into the current trends of the HR world, employee wellbeing, and how the future workforce is shaping up in the near future.
International research has shown that about 25 percent of the European workforce suffers from an undiagnosed emotional disorder such as anxiety or depression, with the coronavirus pandemic having deepened these emotions even more. "We therefore decided to focus on this area, alongside parenting-related and online fitness workshops. Our HR department played by far the most important role, as it led our management to switching focus from delivery and productivity to employees' physical and mental wellbeing," Says Daniela Vercellino.
Today, companies are focused on imagining how business and the local labour market will look like in the next three to five years, while also trying to understand how digitalization will impact various operations and identifying the skills that should be developed right now in order for current employees or those who will join the company in the near future to be successful in their careers. And this is even more important considering the fact that global studies have shown that on average, people change their job 11 times during a 30-35-year work life. "Advancement could be achieved by either improving existing skills or acquiring new ones," says the human resources director at Societe Generale Global Solution Centre. The company recently developed a redeployment programme designed to create new career opportunities inside the company. "It was a large project that proved that redeployment is possible when you provide the right tools," she adds.
"The most important role that HR has played has been to shift the management mindset from focusing on delivery and productivity to an employee-oriented and wellbeing mindset. These are continuous interventions because people will increasingly need this emotional support and to build their resilience to cope with very varied, unpredictable events." Explains Daniela Vercellino, Human Resources Director at Societe Generale Global Solution Centre.
Moreover, Daniela Vercellino firmly believes that a happy employee is also a happy person. "At GSC we don't just invest in people as employees, we invest in their personal development." She concluded.