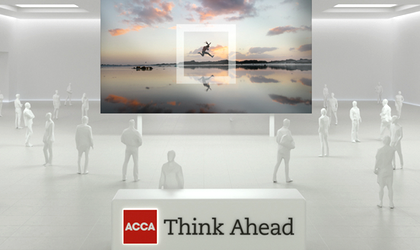 On October 21, Romania participates to the ACCA 2021 Virtual Job Fair, which will be organized at EU level. Hundreds of participants are expected to consult the offers of the 130 employers registered with job offers at this edition of the fair.
"Our region, which includes Romania and Bulgaria, is participating for the third time in the ACCA Virtual Career Fairs," says Andreia Stanciu, Head of ACCA South-Eastern Europe. "The two previous editions were organized online, initially for practical reasons only, unrelated to the pandemic, but because we wanted to attract as many interesting employers as possible. The fair has grown from year to year – at the beginning we only had participants from Romania, then we expanded to Central and Eastern Europe, and now – to the entire European Union."
The first virtual edition of the ACCA career fair was organized in our region in March 2020, given that the entire continent introduced traffic restrictions as a result of the spread of the COVID-19 virus. Its success determined ACCA South-Eastern Europe to set up a new edition in November 2020.
"For the previous edition – organized for Central and Eastern Europe – we had 74 employers and 4,300 registered candidates", explains Andreia Stanciu. "By comparison, this year we already have job offers from approximately 130 employers in 17 EU countries, a sign that more and more companies are using the work from home regime for this category of employees and they are increasingly open towards hiring candidates from other countries. We are very pleased with this trend, which offers international development opportunities for our members and for financial-accounting professionals in general, many of them without a relocation requirement."
Candidates' participation in the fair is free. They can upload their CVs before the start of the fair, which will be on October 21, between 9:00 and 21:00.
The event is part of a global ACCA initiative to support professionals who want to develop their careers in the financial-accounting field, regardless of whether or not they are ACCA members. Through this, the fair is a natural extension of the largest job platform in the financial-accounting field worldwide:www.accacareers.com
Last year alone, ACCA organized 12 virtual career fairs with a total of
48,48922,954 participants
Job applications
3,625 job offers
The Virtual Career Fair is organized by ACCA – the largest international association for financial-accounting professionals, bringing together 770,000 students and members internationally, over 5000 of which are from Romania.
In addition to the actual job offers, during the fair, ACCA will provide – free of charge – career counseling sessions, as well as presentations on how the accounting profession will look in the future, from the perspective of the association. Registrations can be made at https://accaeuvcf.vfairs.com