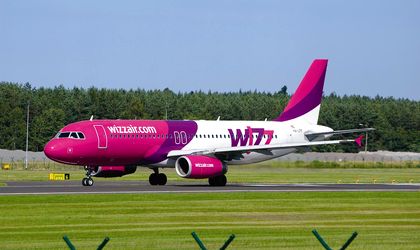 Wizz Air has extended its suspension of flights to Tel Aviv until Thursday night according to the company.
"Safety of operation remains Wizz Air's priority. Owing to continuing uncertainty, Wizz Air has decided to extend its suspension of operations to Tel Aviv Ben Gurion International Airport until midnight Thursday 24 July. 
Wizz Air remains in close contact with relevant authorities and any change will be communicated in due course" according to the company's website. 
Wizz Air and Tarom announced on Tuesday they were suspending their flights to Tel Aviv, as per recommendations from international government agencies, after a rocket landed about a mile away from the Ben Gurion International Airport.
The flight ban was in place for only a day in Tarom's case, who on Wednesday resumed its regular schedule of flights to Israel.
Also on Wednesday, the Federal Aviation Administration announced that U.S. carriers were allowed to resume flights to and from Tel Aviv.
This came nearly 36 hours after the agency had first banned U.S. airlines from traveling to and from Ben Gurion International Airport, halting service after a rocket landed about a mile away from Israel's largest airport. The rule change allowing flights to resume went into effect as of 11:45 p.m. on Wednesday.
"Before making this decision, the FAA worked with its U.S. government counterparts to assess the security situation in Israel and carefully reviewed both significant new information and measures the Government of Israel is taking to mitigate potential risks to civil aviation," the agency said in a statement.