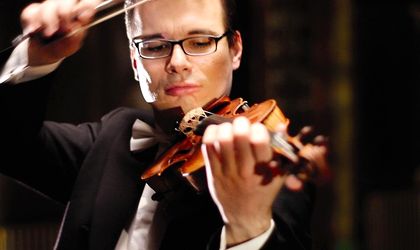 BR brings you the best of Bucharest's cultural highlights for the weekend ahead. 
PERFORMANCE
like CNDB #1
National Dance Centre Bucharest
9 – 28 February
The National Dance Centre in Bucharest organizes the "like CNDB #1″ festival which presents the best contemporary dance pieces of the last few years. Performances start every night from 9 until 28 February at 7:30 pm. Prices start at RON 15 for a single performance ticket or RON 70 for a festival subscription.
Alexandru Tomescu's concert (in picture)
February 14, the Radio Hall, from 19.00
Violinist Alexandru Tomescu returns to the stage of the Radio Hall, as concerto soloist, under the wand of conductor Tiberiu Soare. The event is broadcast live by Radio Romania Cultural and Radio Romania Musical stations and online on these radio stations' websites. More details about this event, here.
FILM PREMIERE
From February 14
Endless Love
Director: Shana Feste
Starring: Alex Pettyfer, Gabriella Wilde, Bruce Greenwood
The story of a privileged girl and a charismatic boy whose instant desire sparks a love affair made only more reckless by parents trying to keep them apart.
The Lego Movie
Director: Phil Lord, Christopher Miller, Chris McKay
Starring: Elizabeth Banks, Liam Neeson, Morgan Freeman, Will Ferrell, Channing Tatum, Jonah Hill
An ordinary LEGO minifigure, mistakenly thought to be the extraordinary MasterBuilder, is recruited to join a quest to stop an evil LEGO tyrant from gluing the universe together.
The Monuments Men
Director: George Clooney
Starring: George Clooney, Matt Damon, Bill Murray, Cate Blanchett
An unlikely World War II platoon are tasked to rescue art masterpieces from Nazi thieves and return them to their owners.
Vampire Academy
Director: Mark Waters
Starring: Zoey Deutch, Lucy Fry
Rose Hathaway is a Dhampir, half human/vampire, guardians of the Moroi, peaceful, mortal vampires living discretely within our world. Her legacy is to protect the Moroi from bloodthirsty, immortal Vampires, the Strigoi.
Winter's Tale
Director: Akiva Goldsman
Starring: Russell Crowe, Jennifer Connelly, Jessica Brown Findlay, Colin Farrell
A burglar falls for an heiress as she dies in his arms. When he learns that he has the gift of reincarnation, he sets out to save her.
EXHIBITION
Contemporary Norwegian Architecture 
The National Museum of Contemporary Art
Until March 22
The "Contemporary Norwegian Architecture # 7" Exhibition travels around the world starting with 2011, being so far hosted by Brazil, Cuba, Poland, Croatia, the Czech republic, the Netherlands, Slovakia, Greece, Cyprus, Germany and Bulgaria. In 2014, with the support of the Royal Norwegian Embassy in Romania, in partnership with the National Museum of Contemporary Art and Zeppelin Association, it comes to Bucharest. More about this exhibition, here.
Q.E.D. by Mircea Cantor
The National Museum of Contemporary Art
Until April 2014
More than 1,200 people have attended the opening of the first local solo exhibition of one of the most important young artists to emerge on the international scene over the last decade: Mircea Cantor, winner of the Prix Marcel Duchamp Award 2011. The QED exhibition, the largest survey of the artist's works to date, comprises 30 pieces. More details here.
Oana Vasiliu