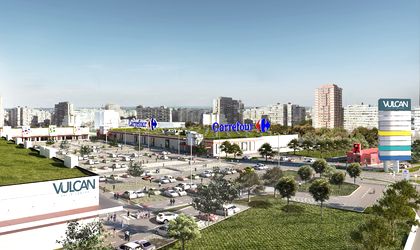 After opening the EUR 47 million Vulcan Value Centre retail park last week, the project's developer, real estate investment fund New Europe Property Investments (NEPI), expects revenues from rents of EUR 4.1 million and between 7.5 and 8 million visitors in the first year, Tiberiu Smaranda, NEPI's executive director, told BR.
[restrict]
Vulcan Value Centre is located in south-west Bucharest, a lower-income part of the city that has so far proved unprofitable and unwelcoming to modern retail developments. NEPI said it chose the location because of the area's "high development potential and high number of residents," added Smaranda. The developers estimate the project's primary catchment area at 550,000 inhabitants.
The retail park, which has a 25,000 sqm GLA, is branded as Bucharest's first "value center", a shopping concept that targets "average income shoppers" by bringing together several types of stores offering "quality products at accessible prices".
Vulcan Value Centre is anchored by a Carrefour hypermarket which covers 9,600 sqm and will feature a 2,500 sqm shopping galleria. This is the French retailer's 26th local hypermarket and the 9th in Bucharest. The entire center has more than 50 stores and is presently 95 percent leased, according to the developer. Other tenants include H&M, C&A and Lems.
Works on the site started in February. Following completion, NEPI has increased its commercial space portfolio to approximately 330,000 sqm (GLA). In Romania, it manages eight other shopping centers and owns several office schemes. On October 16 the fund will open a new shopping center – Shopping City Targu Jiu.
These two retail parks – Vulcan Value Centre and Shopping City Targu Jiu – are the only modern shopping centers to be opened this year in Romania. According to a previous JLL report, their combined surface, 62,000 sqm, marks the lowest annual level reported since 2005.
Simona Bazavan
[/restrict]