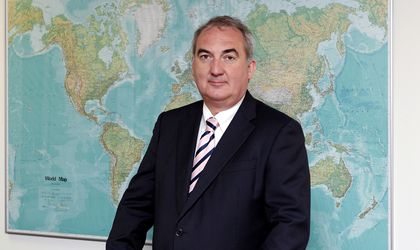 SPECIAL PROJECT/ EXCELLENCE IN BUSINESS – Remco 20 years in Romania
Jan van Vulpen, general manager at Remco Romania, told Business Review of the success story behind Remco Romania, the company's main achievements and the "Remco 2020" strategy for attracting new customers on both local and international market.
By Anda Sebesi
What brought you to Romania?
We came to Romania in 1993 after being pushed to do so by the existing customers of our Dutch parent company. These companies were relocating their business activities to Central and Eastern Europe and asked us to assist them in the construction of efficient industrial premises as their confidence in the local industry was insufficient. Initially we thought it would be limited to some incidental involvement but as soon as the first buildings were erected we were met with overwhelming interest from both international investors as well as local elite companies. At present our reference list contains some 100 projects in Romania and Bulgaria, representing in excess of 600,000 sqm of floor surface.
What do 20 years on the Romanian market mean?
We should not look back too much but focus on "Remco 2020". The development – and growth potential – of Romania has not disappeared with the financial crisis. There still is a lot to be done to catch up with the living standards of fellow Europeans in the more northern countries and thus investments will continue in a lot of sectors when our beloved bankers and politicians have completed their repair work and money is starting to flow again.
What is the success story behind Remco Romania?
A clear mission, vision, strategy and route map on how to achieve that, executed by carefully selected dynamic Romanians, stimulated by experienced Dutch people who give ample space for local entrepreneurship while safeguarding the company's core values and with clear terms of reference in place, avoiding "joyriding". By combining the best of both worlds as we have done and still do, the ideal platform is created for everyone to excel in his or her own domain.
What are the company's main achievements in the 20 years it has been present on the Romanian market?
One would be inclined to look inside and respond with standard phrases related to the company that sum up financial and technical achievements. But in these hectic times where attention to corporate – and social – responsibilities all too often fades into the background, our most valuable achievement is the fact that our presence directly and indirectly has been the start of thousands of Romanians getting a job and a decent income. And we are not only talking about our own staff and the substantial workload we create for our suppliers and subcontractors.
Who are the most important customers you work/have worked for in Romania?
By naming just the most appealing names one would not pay tribute to the dozens of lesser known ones. And behind all of the companies, motivated and dedicated businesspeople are in the driving seat who deserve our respect for their efforts and achievements whether they ordered 1,500 or 15,000 sqm with us.
What are your development plans on the local market?
When you are being shaved you have to sit still. The present local market is not the most favorable one. We need more significant signs of recovery for clients to return to the stage and invest in new accommodation on a larger scale then they are doing now. This may take another few years so the main focus now is to consolidate and only unfold development plans (as we do have a few) when the market is ready to absorb them.
What is the idea behind Remco Romania's one-stop-shop concept?
Comfort and convenience for the customer. In the traditional construction process there are a lot of disciplines spread over a lot of companies. We are designers, engineers, project managers and builders, united in one company. This has a lot of advantages for our customers. They only have one company to talk to and can focus on continuing and expanding their successful business.
What is your strategy for attracting new customers on the Romanian market?
The market and thus the potential customers are very well aware that customer intimacy and operational excellence are the pillars supporting our operations. By continuing to prove that, project after project, the image of a stable company under all circumstances is strengthened further and, especially in these uncertain times, clients are increasingly seeking comfort and convenience. This translates into the need for technical – and financial – security and we can provide that.
With what values does Remco Romania identify itself?
All companies in the Remco Group strive to offer their customers the best possible service at good value for money. The interests of the customer and willingness to co-operate are characteristic operating principles. The continuity of good relationships with our customers is a great good and we place high demands on it. We have four core values. The first is a combination of integrity, transparency and communication: we are honest, honorable, careful and reliable. The second one is quality: we provide our services in an efficient manner and deliver high-quality products. We can add sustainability as third one: we contribute to the sustainable development of society in economic, social and ecological terms. And last but not least safety: we ensure the safety of our workforce, customers and businesses and anyone working for us.
Has the crisis managed to boost your entrepreneurial spirit and creativity in such a way as to help you achieve your objectives?
Absolutely! Together with our Dutch mother company we have adopted an active approach to the African market and at present the Remco Group is working on nearly 15 projects across Ethiopia, the Democratic Republic of Congo, Nigeria and Gabon. Apart from that we are in well advanced talks over projects in Senegal, Ivory Coast, Mozambique and Guinea to name a few, so in actual fact the crisis has been a blessing for us as now the fundamentals under Remco Romania are stronger than ever before and so the company is ready to add further to its (work)load.
anda.sebesi@business-review.ro