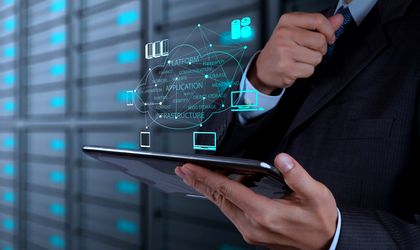 Local SMEs need to catch up with their European peers in the use of technologies that can increase their efficiency, productivity and, in the long run, their profits, say commentators. In fact, various statistics show that they are sorely lacking in some areas. Experts interviewed by BR give their recommendations of what type of solutions they should use.
Otilia Haraga
"IT has evolved tremendously in the past few years. It is enabling business growth more than ever before. That is why more than half the buying decisions lie now with the business decision makers, not with the IT professionals. Actually, most of the so called IT expenditure now is not even capital but operational expenditure," Bogdan Nitulescu, SMB lead at Microsoft Romania, tells BR.
A 2013 BCG survey questioning 4,000 decision makers from SMEs in China, India, Brazil, Germany and the US about the technologies they use found that "technology-savvy SMBs produced almost twice as many jobs and 15 percent more revenue than small firms that use little technology," says Nitulescu.
He adds that according to international studies, 80 percent of millennials are not willing to work in an environment that does not have up-to-date technology.
According to the EC's Digital Economy and Society Index, which evaluates EU members' progress towards a digital economy and society, "the number of Romanian enterprises that use technologies, such as electronic exchange of information (ERP, 21 percent), electronic invoices (7.2 percent), cloud services (2.8 percent) and social networks (5.9 percent) is among the lowest in the EU," Valerica Dragomir, executive director at ANIS (Employers' Association of the Software and Services Industry), tells BR.
Only 7.3 percent of Romanian SMEs actually sell products and services online and only 3.4 percent sell online in other EU member states. Of those that do sell online, a very small percentage of their turnover, 4.3 percent, is generated from these sales, according to Dragomir.
What is surprising is that Romanian employees have a more open attitude towards technology than their European peers, according to Microsoft market research on European SMBs conducted with the support of Ipsos Mori.
While 52 percent of the employees of local SMEs see modern technology as essential for growing business performance, only 32 percent of European ones believe this. Also, 31 percent of Romanians think that having the flexibility to work from anywhere helps them be more productive, while only 21 percent of their European peers agree.
However, the attitude of Romanian employees is not matched by the attitude of the SMEs they work for. Romania ranked worst in mobility among all countries. "More than 80 percent of employees in this segment need to be present in the office in order to get their job done. We believe that this scenario must be improved with mobility solutions. And maybe a different mindset too. Because if you look at the productivity figures from Eurostat, the greater the mobility, the greater the productivity," Nitulescu comments for BR.
And while in Romania, 81 percent of employees need to be physically at work to fulfill their obligations, productivity per worked hour is only EUR 5.6.
In Europe, an average of only 61 percent of European employees need to be the office, while the productivity per hour is EUR 32. However, in Denmark and Norway the mobility-productivity ratio is even better. Only 53 and 59 percent of employees in Denmark and Norway respectively are required to be at work, while productivity per hour stands at EUR 53 and EUR 59.
Romanian SMEs are vulnerable to security breaches, since 29 percent do not do any backup. Only 40 percent use an external storage device and 24 percent have cloud backup. As opposed to that, in Europe only 13 percent lack backup. Some 42 percent use an external storage device, and 33 percent do backup in the cloud.
In Romania, 50 percent of employees transfer the company's data via their personal e-mail while in Europe only 29 percent do so.
According to Cristi Cozic, general manager of Entersoft Romania, the local market has particular features that are hard to find in other countries in the region. "SMEs invest only a small part of their turnover in increasing organizational efficiency. In more than 50 percent of the studied cases, companies no longer in the startup phase are still using instruments that are not appropriate for their growth. For instance, we have found companies with 20-30 employees that are still organizing on paper, in Excel or, in the best case scenario, completely outdated financial software," he tells BR.
This is a lack of understanding on the part of the management of these companies. "There are few managers or shareholders who really understand how much technology can increase their productivity and competitiveness. (…) even if you prove to them that a CRM or ERP or business intelligence reporting instrument allows them to save so much time, both for the manager and the team, that they could double the number of customers in at most a year," he says.
Lilia Cozari, commercial director of Intrasoft Romania, tells BR, "An estimated 35 to 45 percent of Romanian SMEs are using or implementing an IT business solution." Many of them opt for cloud services for billing, data storage, document management, legal information, CRM, trade or presentation websites, she says.
About 5-10 percent of companies will likely start to use IT business solutions that will help them optimize processes. "They have been aware of this need for some time but investments in IT systems and services were and still are considered by some business owners in Romania as an expense and not an instrument for streamlining and stimulating productivity," says Cozari.
Since SMEs are strapped for cash and their financial resources cannot be compared to those of a multinational, they must also choose their battles. This means they must carefully select the baskets into which they put their money.
Cozari says that first on the list is owning basic infrastructure, such as computers, internet access and professional e-mail solutions. "Approximately 10 percent of Romanian SMEs still do not have internet access," she says.
Second on the list of priorities come billing systems, because, she says, "we still find on the market invoices that are filled in with a pen."
Third are integrated systems for the management of documents and company activity. "Losing important company documents is still rather frequent in Romania," she comments.
Fourth, she recommends ERP systems for SMEs that undertake more complex activities such as production, agriculture, warehousing and logistics.
Last but not least, she advises firms to use a CRM solution.
"Intelligent managers will know they can afford to invest even 10-20 percent of the profit in acquiring or contracting IT business solutions and services that can help them streamline the processes within the organization and boost profitability," she concludes.
Cozic, of Entersoft Romania, thinks that companies should see as a priority the acquisition of a simple, easy to install ERP, "in the cloud rather than on the premises, which will help the manager/owner/shareholder to have a more centralized vision of the company."
He also recommends a CRM that allows the firm to manage customers and have a complete overview of the sales, contracting, delivering and marketing activities.
He sees an e-commerce solution as very important because "a company that does not sell online at the moment has practically cut its wings off, especially if it operates in the Business2Consumer field."
A business intelligence instrument is also on the list of recommendations, as well as a mobile SFA (sales force automation) tool for managing sales from a tablet.
"When it comes to IT business solutions, electronic billing solutions are the most common, with 39.1 percent of SMBs in Romania using such services, followed by data storage solutions used by 36.8 percent and document management services used by 19.5 percent," Alina Georgescu, sales director at Ymens, tells BR.
These are the findings of the SME Whitepaper released in 2015 by the National Council of Small and Medium Private Enterprises in Romania (CNIPMMR).
"At Ymens, we believe that, when talking about IT investments, the main priority should be cloud technology. Cloud has great potential in the SME market, as it allows companies to adopt technology in a fast and easy way, with minimum investments. (…) The market is also shifting towards cloud. For example, according to IDC, while the traditional IT market in CEE (Central and Eastern Europe) is growing by a maximum of 3 percent, the growth rate for cloud solutions such as ERP, collaboration and CRM is between 16 and 31 percent," says Georgescu.
She quotes IDC which concluded that the "as a service" model remains in Romania an "add-on" to the traditional licensing model. However, Georgescu is convinced that over the next five years, the market will witness an increase in cloud applications supply, which will be ten times greater than at the moment.
One way for SMEs to have better access to technology is to get more informed about the European framework programs for technological development, as suggested by Liviu Buligan, executive manager at SoftOne Romania.
He believes that SMEs should receive better advice on drafting projects that could absorb European funds and that they should also invest more in state of the art technologies.
Buligan tells BR that the SMEs who implement business software solutions generally register a 35 percent work productivity increase, 22 percent reduction in operating costs, 20 percent reduction in administrative costs, 17 percent inventory reductions, 25 percent improvements in complete and on-time delivery and 20 percent improvements in schedule compliance.
"Basically, these solutions turn growth strategies into profit," he concludes.
Teodor Blidarus, managing partner of strategy & business development at Softelligence, believes that SMEs have a card up their sleeve when negotiating with software providers.
"Software providers have become extremely flexible and can make implementations tailored to their needs but also to their budgets, using business models based on monthly subscriptions. It is very likely that in service companies IT investments represent 50 percent of the total expense budget. It is very important, when you are just at the beginning, and if you want rapid growth and to be efficient, to invest once in a solution to ensure the development over the next two or three years," he tells BR.