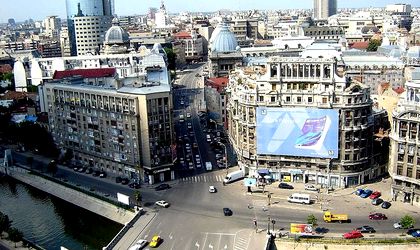 Ryanair, largest low-cost operator in Europe, published a series of PDG touristic guides for its destinations, including Bucharest, "Europe's best kept secret" according to the document. Unfortunately, despite the complimentary nature of the guide, it is filled with several errors and appears to be outdated.
"New shops like Vivienne Westwood and Versace in Bucharest are on the rise. You can easily stock up on designer wear like you could in Paris, Milan or London. Equally, if you're hunting down souvenirs, there are no end of little boutiques that sell Romanian knick-knacks – some more authentic than others"
Outside of the fact that Bucharest doesn't have a limitless supply of boutique shops (there are a couple, but isolated), the city also doesn't have any dedicated Vivienne Westood or Versace store. There was a Versace shop that opened in 2006, but it was closed three years later.
Furthermore, the Ryanair guide states that Bucharest has only four notable shopping malls.
"There are four major shopping centres which should cater to all needs. World Trade Plaza, the Unirea Shopping Centre, and Plaza Romania house departments for fashion, electronics, housewares, food, cosmetics, antiques and souvenirs. Mario Plaza and Bucaresti Mall  (sic) are also worth a look, though they are slightly less extensive in their choice. Bucaresti Mall also houses the city's largest cinema".
Afi Palace Cotroceni, Banseasa Shopping City and Sun Plaza are not only not mentioned, but Hollywood Multiplex (the cinema at Bucuresti Mall) is definitely not the city's largest cinema. Hollywood Multiplex includes 10 movie theater rooms and 2140 seats, whereas Cinema City Cotroceni has 20 rooms and 3850 seats.
Conteacted by economica.net, the Ryanair representatives commented that "the operator will continue to improve and update the guides with the ultimate objective in the end to host more user-generated content".
The well-known low-cost airline Ryanair, the biggest in Europe started operating flights to Bucharest Henry Coanda (Otopeni) Airport from London – Stansted Airport on March 30th 2014.