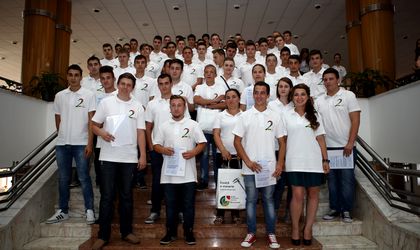 Kronstadt German Professional School, a state school training craftsmen in the dual system model in Germany, celebrated its second generation of graduates, announced the Romanian-German Chamber of Commerce and Industry (AHK Romania).
The learning system contains German training elements and the students have received certificates from the AHK Romania attesting to their skills. A great share of the students (93 percent) will already start work within the companies they trained in beginning August.
AHK Romania oversaw the review process and awarded to students who have obtained an above average score certificates stating that they have acquired a local qualification with dual German system elements. The supervision was performed for the first time in Romania by the standards and quality criteria imposed by the Union of Chambers of Commerce in Germany (DIHK) and included, among others: checking that each practice tutor is appropriate to their role; ensuring that the practical training, on the job, has a high share and that assessment is based on objective and fair examination by a joint committee (tutors and teachers); observing pupils during the final exam, when students have completed a project related to the field they studied.
"These kids are great! Their final exam projects are exceptional: a miniature barrier activated by sensors, a mini cableways cabin or a chessboard, made at the age of 16-17 years, are evidence of good qualifications they have gained. This is the result of teaching that combines theory with practical training and is perfectly correlated with labor market needs. This is in fact in accordance with the dual system in Germany," said Anca Hociota, training manager at AHK Romania.
AHK Romania is the official representative of the German economy in Romania. As a bilateral chamber, it represents the interests of Romanian and German companies and those of members before public authorities.
It was formally established in September 2002 and currently has over 530 members. The Board is composed of 12 members, and it currently employs 13 people.
Natalia Martian