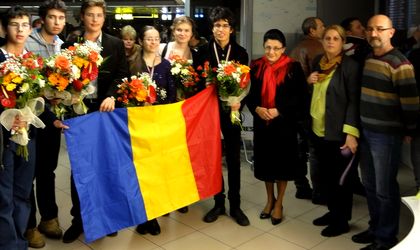 This year, at the International Junior Science Olympiad, a major international student academic competition held annually and the only international academic competition that covers physics, chemistry and biology at the same time, Romania obtained six silver medals. All of the students present at the competition received a prize.
The competition took place in Teheran, Iran, and the six geniuses students are: Diana-Andreea Catană ( 9th grade/ Mircea cel Bătrân College, Constanţa), Ruxandra Tesloianu (10th grade/Emil Racoviţa College, Iaşi), Dan Mircea Mirea (10th grade/ Fraţii Buzeşti College, Craiova), Adrian Mihai Radu (9th grade/Tudor Vladimirescu Colleg, Târgu Jiu), Tiberiu Alexandru Pană (10th grade/Mihai Viteazul College, Ploieşti), and Andrei Iliescu (9th grade/ The International Computer High School of Bucharest). Last year, at the same competition which took place in South Africa, the lot obtained two silver medals and four bronze medals.
The competition is known for being intensive and demanding and requires a wide-range of knowledge in all three sciences, physics, chemistry and biology. The examinations consist of three separated tests, done in different days. The tests require knowledge about science of physics, chemistry and biology. The maximum score is 100 points. The test examination is composed of 30 multiple choice questions, ten involving physics, ten involving chemistry and ten involving biology. Each of the questions has four options. The competitor earns one point for each right answer, earns nothing for questions left unanswered and loses 0.25 for wrong answers. The maximum score for this test is 30 points. The theoretical examination is made up of three parts, one for each of the subjects. Each part contains several questions about one or more topics from the respective science. The maximum score for this test is 30. The experimental examination is done in groups of up to three people of the same country, each country may have up to two teams. The groups should follow the instructions and answer the proposed questions. All students of the group receive the same grade. The maximum score for this test is 30 points.
Next year, the competition will be held in Mumbai,India. At this edition, 165 students from 35 countries assisted the Olympiad.
Photo courtesy of the Minister of Education
Oana Vasiliu