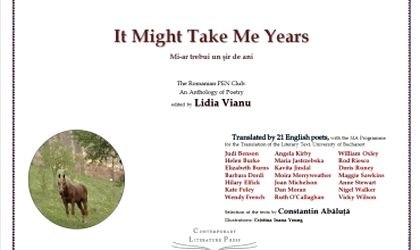 The Romanian Cultural Institute (ICR) recently published a book of poems gathering works written by members of the Romanian PEN Club. Titled "It Might Take Me Years: Mi-ar trebui un șir de ani. An Anthology of Poetry," the book was edited by the veteran of Romanian poetry, Constantin Abăluță.
The illustrations belong to young artist Cristina Ioana Young. According to ICR, both poems and illustrations convey the essence of Romanian lyricism during the communist period and after.
"It would be difficult to find a more contemporary book than It Might Take Me Years. These poems are the perfect X-ray of what poetry has been in Romania since the 1950's to this day: a web of confusion, creation and frustration", ICR representatives say.
The book covers 39 poets publishing from 1931 to 1967. The texts have been translated by 21 English poets, together with the graduate students of the MA Program for the Translation of the Contemporary Literary Text, held by the Bucharest University.
More details about this book can be found here.
Oana Vasiliu