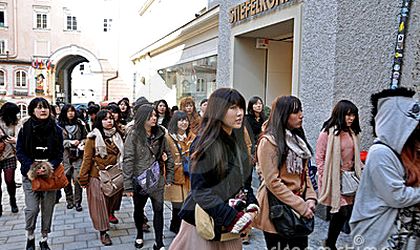 Romania is setting the target to attract more Asian tourists, especially from Japan where a tourism promotion office will be reopened, Maria Grapini, the Romanian minister for SMEs, tourism and the business environment told Mediafax.
"We have to also target countries with a solid economy and wealthy people. I don't know how much was done to attract Japanese tourists so far, but if you go to Moscow you will see only Asians – because they have money, they spend a lot and are eager to learn," said Grapini.
Romania had tourism promotion offices in Japan as well as China but these were closed over the past years. The minister is confident Romania could attract more tourists from these two countries with the right promotion.
However, promoting Romania as a tourist destination in Japan for example, will be harder than the opening of a promotion office. The authorities must also find ways to shake bad image after a 20 year old Japanese university student was raped and killed in Romania this summer shortly after arriving in the country.
Some 13,500 Japanese tourists came to Romania in 2011, up from 13,000 in 2008, according to data from the National Institute of Statistics cited by Mediafax,
Simona Bazavan