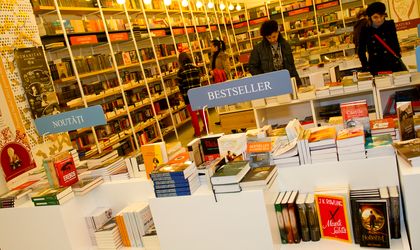 The Romanian Cultural Institute (ICR) and the Ministry of Culture and National Heritage (MCNH) will assure the presence of Romania at the international book festivals in 2013, as follows: Paris, London, Torino, Goteborg and Frankfurt am Main.
This year, the most important event where Romania is one of the guests of honor is the 2013 Salon du Livre Paris, along with Barcelona, between March 22-25. The Romanian stand will have 400 sq, near the France Télévisions. ICR will promote at Salon du Livre Paris 27 Romanian artists, such as  Gabriela Adameşteanu, Radu Aldulescu, Savatie Baştovoi, Mircea Cărtărescu, Petru Cimpoeşu, Florina Ilis, Dan Lungu, Norman Manea, Marius Daniel Popescu, Răzvan Rădulescu, Adina Rosetti, Bogdan Suceavă, Lucian Dan Teodorovici, Dumitru Ţepeneag, Eugen Uricaru and Varujan Vosganian (novelists), Ana Blandiana and Doina Ioanid (poets), Nicoleta Esinencu, Alina Nelega, Matei Vişniec (dramatist), Lucian Boia, Gabriel Liiceanu, Andrei Oişteanu, Andrei Pleşu (essayist), Ileana Surducan, Alex Tamba (comics authors). Among the artists promoted, ICR will organize several debates, conferences, exhibitions, concerts, theatre performances or cinematographic projections  with contemporary critics or publicists such as Constantin Abăluță, Nicolae Breban, Augustin Buzura, Al. Călinescu, Paul Cernat, Neagu Djuvara, Ioana Drăgan, Teodor Dună, Ileana Mălăncioiu, D.R. Popescu, Stelian Tănase.
For this Salon du Livre, MCNH will be a partner, inviting there other Romanian authors like Horia Bădescu, Gabriel Chifu, Riri Manor, Mircea Martin, Valentin Nicolau, Marta Petreu, Ioan Es. Pop, Eugen Simion, Dănuț Ungureanu.  Universities and publishing houses from Romania are welcomed to be part of the country's stand, if they can bare the costs. The total costs of the event are approximately EUR 700.000.
The London Book Fair (April 15-17) will be made in partnership with the Romanian Publishers Association, while the fair is meant to be only a stock for publishing houses.
The International Book Fair of Torino will take place between May 16-20, and ICR takes the responsibility for representing Romania there. The book stand will be made in collaboration with several Italian editors of Romanian books.
Goteborg Book Fair, held between September 26-29, is the responsibility of ICR Stockholm, while the budget allocated for this fair is EUR 30.000.
Romania will be represented at The Frankfurt Book Fair 2013 (October 9-13) with the support of the Ministry of Culture and National Heritage.
Oana Vasiliu