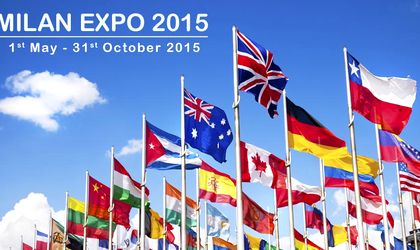 Romania has its own pavilion at the Universal Exhibition Expo Milano 2015, with the theme "Living with Nature", reads a press release issued on Thursday by the Foreign Affairs Ministry.
The Universal Exhibition Expo Milano 2015 styled "Feeding the Planet, Energy for Life" opens on May 1 and stays open to visitors for six months.
The exhibition offers the 145 participating countries the opportunity to illustrate their own solutions to the food and energy challenges, and to propose responses for the global requirements of providing sufficient amounts of healthy food for everyone, while respecting the environmental balance and the biodiversity.
"Romania will be present at Expo Milano 2015 with its own exhibition pavilion, on the theme 'Living with Nature'. Starting from the architectural re-interpretation of a traditional Romanian house, the pavilion will illustrate the national development priorities, including sustainable agriculture, competitiveness, excellence and scientific research, also underlining the cultural uniqueness and the richness of Romanian traditions," reads the Foreign Ministry document as quoted by Agerpres.
Staff